Kroc School and University Launch Small Arms Data Observatory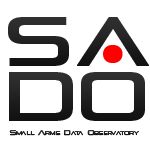 The Small Arms Data Observatory (SADO) — an international consortium featuring leading researchers from the Kroc School and University of San Diego, the Igarape Institute in Brazil, and the Peace Research Institute of Oslo in Norway, among others — has launched its website and the first of its Working Papers.

Initially, SADO will be devoted to the quantitative study of small arms — their manufacture, trade and effects — in North America, Central America and South America.

Read the full press release and visit the website to learn more about the consortium and its cutting-edge research.