Turkish Living: USD Student is Kroc-Pulitzer Reporting Fellow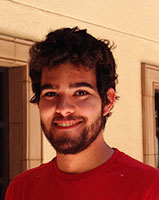 Inside USD -- College of Arts and Sciences (CAS) architecture student and incoming senior, Paul Short, is about to embark on a trip of a lifetime. Literally. Short leaves for Turkey with the University of San Diego Summer Study Abroad Program, as a Kroc-Pulitzer Reporting Fellow at the end of June. The trip will be Short's first time abroad.
The Pulitzer Center selects undergraduate students to study and report on crises abroad. This year, the Pulitzer Center selected only 21 students nationwide. The recipients are expected to report on a range of complex issues from around the world and will be mentored by Pulitzer Center-supported journalists and staff throughout their projects. The reporting fellowships are awarded to students who attend colleges and universities that are part of the Pulitzer Center's Campus Consortium educational initiative. USD is part of the consortium with a partnership with the Joan B. Kroc School of Peace Studies. (Full Story)
Learn more about the Pulitzer Center Campus Consortium.