A Special Request from Interim Dean Lee Ann Otto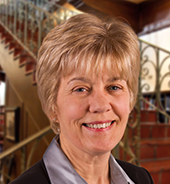 Dear friends, alumni and colleagues,
Joan B. Kroc challenged us to "make peace and not just talk about peace." I am grateful to be a part of her vision and to write to you about our students, learning to engage in the important work of building world peace; our institutes, homes for practitioners of peace; and our supporters, alumni and friends who help us meet Mrs. Kroc's challenge.
Since its beginning in 2007, the Joan B. Kroc School of Peace Studies has focused on training its students through a multi-faceted approach to peacebuilding, emphasizing teaching, research and practice. The Kroc School attracts the best and brightest scholars from across the globe. We can do this only with generous scholarship support for our students. Without this financial help, most would, quite frankly, be unable to even consider studying here.
At the Institute for Peace and Justice (IPJ), your philanthropic support provides education on peacebuilding to thousands of young people in the San Diego-Tijuana region. The Women Peacemakers program documents and disseminates outstanding examples of peace practices. The IPJ has also brought together whole communities, including civil society, youth, women, government and security forces, to help resolve conflicts and build peace in Cambodia, Kenya and Nepal. Your support will allow us to continue these proven, yet innovative, programs to foster peace, cultivate justice and create a safer world.
The Trans-Border Institute (TBI) advances knowledge, engages communities, and informs border-related policies. The institute generates cutting-edge research and analysis, promotes public awareness and dialogue, and advances collaboration and cooperation. In October, TBI participated in the launch of a new 16-week "Citizenship for Peace" Diplomado Program with organizations in Mexico City, Cuernavaca, and La Laguna, Mexico. The program focuses on peace and justice, conflict resolution and nonviolence, human rights and the role of civil society, as well as approaches to dialogue and negotiation. Your financial support is crucial to our work to expand the way we understand and engage with others along and across borders.
None of this work is possible without the continued, generous financial support of our alumni and friends. Mrs. Kroc gave us a challenge, and your help allows us to meet it. Whether your gift benefits the programs of the IPJ or TBI or scholarships for our incredibly committed Kroc School students, know that its value grows through the work of those it supports.
I hope you will include the Kroc School in your year-end giving.
Sincerely,
Lee Ann Otto, PhD
Professor and Interim Dean
Download Attachment (pdf)