Michelle Sellwood '18 (JD): From Working on an Oscar Winning Film to Law School
Michelle Sellwood '18 (JD): From Working on an Oscar Winning Film to Law School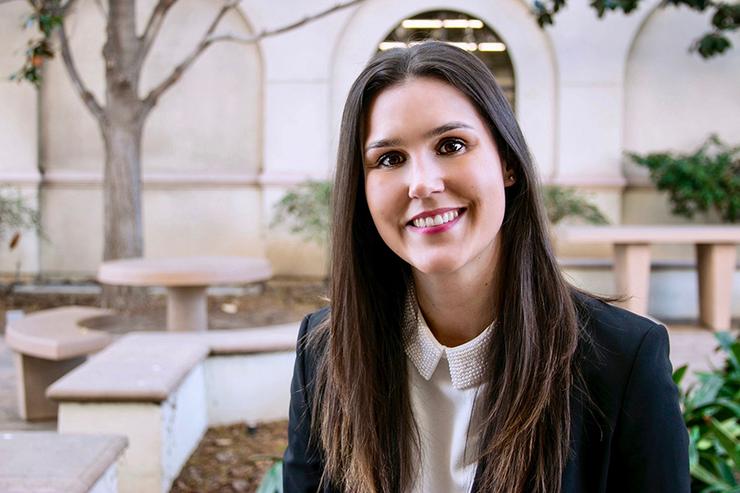 San Diego (February 19, 2018) - Prior to coming to law school, third year law student Michelle Sellwood had your not-so-average job working for Hollywood director Morten Tyldum on the Oscar winning film, The Imitation Game. "It was a phenomenal experience," Sellwood says. "I got to live in London for 6-months during filming and it was really an incredible time in my life. Morten became a mentor to me."
Sellwood has a background in film. She finished her undergraduate degree at the film school AFDA: The School for Creative Economy in South Africa (where she was born and raised), and, shortly after graduating, decided to move to Los Angeles in order to get a job in one of the toughest industries in the world.
"I didn't know anyone when I first moved to LA," she says. "I sent my resume to every production company that made movies I liked and ended up landing an internship at Echo Lake Entertainment." Sellwood worked as a coordinator for the management department.
It was at Echo Lake where Sellwood first heard about Tyldum. Soon after, she left Echo Lake to work for Tyldum on The Imitation Game, which was a two-year project.
"I worked alongside Morten and the screenwriter, Graham Moore, in developing the script and was involved in every step of the filmmaking process, from casting to storyboarding to production to editing," she says. "I had never heard of Alan Turning before this script came along, which is incredibly sad because he was such an influential figure—he helped to end the second World War by building the first computer to crack the Nazi enigma codes. But his greatness was met with such tragedy when he was prosecuted in 1952 under Britain's "gross indecency" law for homosexuality."
"What I really treasure about the experience is how the film became a social call to the injustices of those who were deemed 'different,'" Sellwood continues. "The press surrounding the film encouraged the posthumous pardoning of Alan Turing in 2013 by Queen Elizabeth II, and in 2017, Turing's Law was enacted to pardon the other 49,000 men convicted under British homosexuality laws. I am incredibly proud to be a part of a film that has had such a positive impact."
After the film wrapped, Sellwood decided to pursue her other big passion: law.
"I have always been interested in law, and thought I could merge the two industries," Sellwood says. "I went to law school thinking I could use a JD degree to further my career in the film industry by becoming an entertainment lawyer."
However, Sellwood worked as a 2L summer associate at the San Diego District Attorney's Office, where she won the George Bennett Closing Argument Competition, and now has a post-bar position lined up there as a graduate law clerk. "Even though I always thought I'd go into entertainment law, after working at the DA's Office, I realized how much I enjoy litigation, and especially criminal litigation. So for now, I'm really happy to be doing that. Who knows though, maybe one day I'll try to get back into the film industry as an entertainment lawyer."
In addition to her internship at the DA's Office, Sellwood also keeps busy as an articles editor on the San Diego Law Review (her comment, "The Road to Autonomy," was selected for publication) and as a member on the Moot Court Board and National Team.
"Everyone said that 3L year would be less busy than 2L year, but, at least for me, I haven't found that to be true. I really enjoy it though – there's a lot of emphasis put on the grades you get in law school, which is obviously important, but I also think you get a lot out of doing things that are more hands-on, like Moot Court. Participation is really important."
Sellwood also plays Grad Law Softball for USD and says she likes to get outdoors whenever possible since she spends so much time indoors for law school.
When asked what else she likes to do in her spare time, Sellwood replied "sleep!"
About the University of San Diego School of Law
The University of San Diego (USD) School of Law is recognized for the excellence of its faculty, depth of its curriculum, and strength of its clinical programs. Each year, USD educates approximately 800 Juris Doctor and graduate law students from throughout the United States and around the world. The law school is best known for its offerings in the areas of business and corporate law, constitutional law, intellectual property, international and comparative law, public interest and taxation.
USD School of Law is one of the 84 law schools elected to the Order of the Coif, a national honor society for law school graduates. The law school's faculty is a strong group of outstanding scholars and teachers with national and international reputations and currently ranks 35th nationally and 6th on the West Coast among U.S. law faculties in scholarly impact and 20th nationally and 4th on the West Coast in past-year faculty downloads on the Social Sciences Research Network (SSRN). The school is accredited by the American Bar Association and is a member of the Association of American Law Schools. Founded in 1954, the law school is part of the University of San Diego, a private, nonprofit, independent, Roman Catholic university chartered in 1949