USD's Children's Advocacy Institute Asked to be Expert Advisors on Upcoming Film
USD's Children's Advocacy Institute Asked to be Expert Advisors on Upcoming Film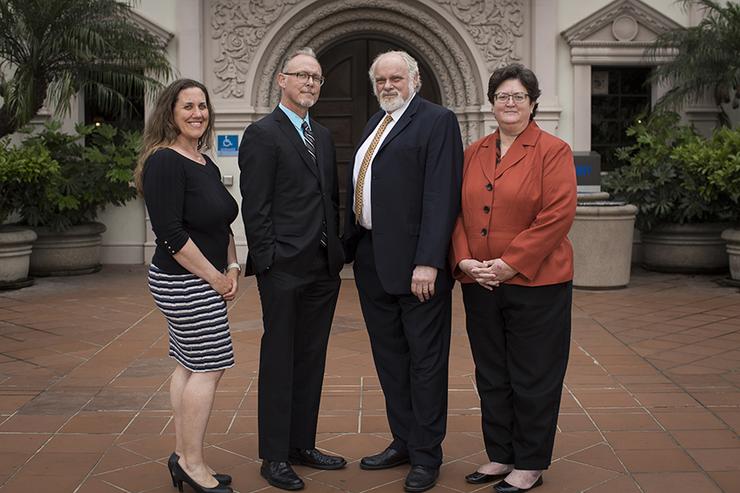 San Diego (November 15, 2017) - University of San Diego (USD) School of Law's Children's Advocacy Institute (CAI) has been asked to be expert advisors for an upcoming independent drama titled "Foster Boy."
The script, written by Jay Paul Deratany, is based on his experiences as a litigator in Chicago. The main plot of the film follows a trial centered on a for-profit corporation that was contracted by the state to find safe homes for foster care children. However, the corporation places a known sex offender in a home with other children leading to devastating consequences.
The goal of the film is to raise awareness to the challenges of America's foster care children who face numerous barriers. According to a Variety article reporting on the upcoming film, " less than 3% of foster youth go on to earn a college degree; and that of the 20,000 youth who age out of foster care annually, more than half become homeless, incarcerated, on drugs, or on welfare within two years."
CAI hopes to continue to call attention to this important societal issue through this media platform in conjunction with the director Youssef Delara, the actors Matthew Modine, James Earl Jones and Shane Paul McGhie, as well as the producers and executive producers.
For more information about the film, read the Variety article online.
About Children's Advocacy Institute
The Children's Advocacy Institute (CAI), founded at the nonprofit University of San Diego School of Law in 1989, is one of the nation's premiere academic, research, and advocacy organizations working to improve the lives of children and youth, with special emphasis on improving the child protection and foster care systems and enhancing resources that are available to youth aging out of foster care.
In its academic component, CAI trains law students and attorneys to be effective child advocates throughout their legal careers. Its Child Advocacy Clinic gives USD Law students three distinct clinical opportunities to advocate on behalf of children and youth, and its Dependency Counsel Training Program provides comprehensive training to licensed attorneys engaged in or contemplating Dependency Court practice.
CAI's research and advocacy component, conducted through its offices in San Diego, Sacramento, and Washington, D.C., seeks to leverage change for children and youth through impact litigation, regulatory and legislative advocacy, and public education. Active primarily at the federal and state levels, CAI's efforts are multi-faceted—comprehensively and successfully embracing all tools of public interest advocacy to improve the lives of children and youth.
About the University of San Diego School of Law
The University of San Diego (USD) School of Law is recognized for the excellence of its faculty, depth of its curriculum, and strength of its clinical programs. Each year, USD educates approximately 800 Juris Doctor and graduate law students from throughout the United States and around the world. The law school is best known for its offerings in the areas of business and corporate law, constitutional law, intellectual property, international and comparative law, public interest and taxation.
USD School of Law is one of the 84 law schools elected to the Order of the Coif, a national honor society for law school graduates. The law school's faculty is a strong group of outstanding scholars and teachers with national and international reputations and currently ranks 35th nationally and 6th on the West Coast among U.S. law faculties in scholarly impact and 20th nationally and 4th on the West Coast in past-year faculty downloads on the Social Sciences Research Network (SSRN). The school is accredited by the American Bar Association and is a member of the Association of American Law Schools. Founded in 1954, the law school is part of the University of San Diego, a private, independent, Roman Catholic university chartered in 1949.