From Bollywood to Law School
From Bollywood to Law School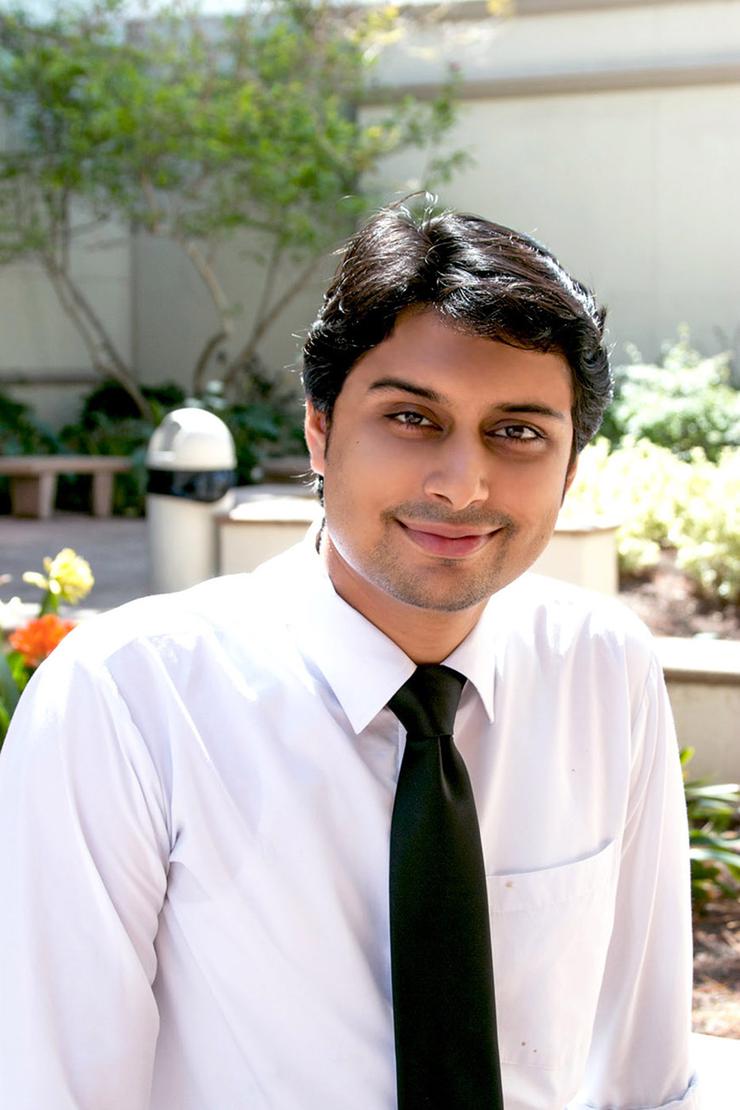 San Diego (May 1, 2017) - Pranshu Kaushal, '17 (LLM), has a different background than most of his peers. Though he's currently working to fulfill his life-long goal of becoming a business lawyer, Kaushal is a former Bollywood star.
Born in the valley of Dehradun in the lower parts of Himalayas, Kaushal grew up in northern parts of India in various places depending on his father's jobs. He graduated with a bachelor's degree in journalism and mass communications from Amity University, Noida, India, as well as obtained a diploma in the summer of 2009 in film making from New York Film Academy. Kaushal received his first "break" at the age of 22 by signing his first television series, Manzil Apni Apni, in 2012. The show was based on the lives of young students who were trying to find a balance between their relationship, friendship and education.
"I had a lot of fun shooting for that series. I was 22-year-old and was playing a character named Harsh who was supposed to be 18 years old," said Kaushal. "It was fun telling yourself to go back 4-5 years in life." After some years working as a Bollywood actor, Kaushal decided to follow in the footsteps of his father, grandfather, and grandfather's uncle by pursuing a law degree at Galgotias School of Law, Galgotias University in India. He also signed for his first film, Hum Hai Teen Khurafaati, around the same time. Ironically, he began filming for the movie on his very first day of law school. Although juggling his work as an actor and student was difficult, he was able to film mostly on the weekends and during breaks from school. Coincidentally, some of the scenes for the movie were shot at the school across the street from his law classes and he would run back and forth between the two when he could.
"I remember, in January 2014, I had an exam in the morning but we were shooting late until 4 a.m. the night before at a resort. After shooting, I came back my hostel and there was a lot of fog with zero visibility, but I still managed to make it to my exam on time," Kaushal recalls. "I can't believe it now, but somehow I managed to film a movie while being a full-time law student. I used to switch on and off my mood as an actor and a law student throughout the time I was shooting for the film." After graduating law school, Kaushal decided to get his LLM. The choice of choosing where to go was an easy one. "I was accepted from four law schools other than USD, but USD was the first choice for me," he said. "I was drawn to the curriculum and standard of education. I was also impressed with the faculty here, and the combination of book study and practical skills USD offers. I never gave a second thought of going to any school other than USD, once I was accepted from USD."
Kaushal anticipates graduating from the LLM program of comparative law in 2017. After graduation, he plans to return home to India to pursue a law career, but will continue to act as a hobby in Mumbai.
Fun fact about Kaushal… he doesn't even watch television!
About the University of San Diego School of Law
The University of San Diego (USD) School of Law is recognized for the excellence of its faculty, depth of its curriculum, and strength of its clinical programs. Each year, USD educates approximately 800 Juris Doctor and graduate law students from throughout the United States and around the world. The law school is best known for its offerings in the areas of business and corporate law, constitutional law, intellectual property, international and comparative law, public interest and taxation.
USD School of Law is one of the 84 law schools elected to the Order of the Coif, a national honor society for law school graduates. The law school's faculty is a strong group of outstanding scholars and teachers with national and international reputations and currently ranks 35th nationally and 6th on the West Coast among U.S. law faculties in scholarly impact and 20th nationally and 4th on the West Coast in past-year faculty downloads on the Social Sciences Research Network (SSRN). The school is accredited by the American Bar Association and is a member of the Association of American Law Schools. Founded in 1954, the law school is part of the University of San Diego, a private, nonprofit, independent, Roman Catholic university chartered in 1949