USD School of Law Celebrates its 60th Commencement
USD School of Law Celebrates its 60th Commencement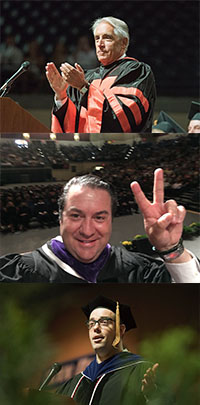 begin quote

What I found at this law school was a community of people that always helped each other out. -William Lange, Class of 2017
San Diego (May 20, 2017) – Pomp and Circumstance played to mark the start of a processional of 264 graduating law students to their seats and USD law faculty, USD administrators, Commencement speaker and Arizona's Attorney General Mark Brnovich, '91 (JD), and designated law student Commencement speaker William M. Lange, '17 (JD), to the main stage.
The national anthem was sung by Benjamin Pierce Cooper, '17 (JD), and the invocation was delivered by Mark Peters, '09 (PhD). There were remarks and acknowledgements by USD President James Harris and a Class of 2017 overview and thoughts about leadership from Stephen Ferruolo, dean and professor of law at the School of Law.
Ferruolo broke down several characteristics about the 2017 School of Law graduates. There are 20 law graduates who also possess a USD undergraduate degree; more than 60 percent of the day's graduates were from California, but also there were 30 states represented from around the country; and the Master of Laws recipients represented 20 different countries and a dozen different languages.
There were also a few unique degree recipients. William Rankin, a 1974 JD graduate of USD, earned a Master of Laws in Taxation on Saturday. Rankin then returned to the stage to award son Zachary Rankin '17 (JD) with his diploma. Andrew Green '17 (JD) received his degree from his USD law alumni parents Jeff '84 and Lisa '83 Green.
Margaret A. Dalton, School of Law associate dean and law professor, then presented four law faculty awards. The 2016-17 Thorsnes Prize for Excellence in Teaching went to Professor Michael Devitt. The 2016-17 Thorsnes Prize for Outstanding Legal Scholarship went to three USD law professors, Abraham Bell, Adam Hirsch, and Michael D. Ramsey.
Brnovich, after he took an impromptu selfie, gave a heartened speech filled with life lessons for law graduates to absorb: "Your reputation means everything; you can sell your integrity but you can never buy it back. No case is worth sacrificing your reputation; Be prepared; No case should be too small for you; Be a team player and be a good listener; Keep your eye on the big picture; Identify your passion, make a commitment to something you care about; and to understand the power of persistence."
Lange provided several fun remarks in the student address, sprinkling some dry wit with important thoughts about the USD law school experience.
"We knew law school would be tough, Dean Ferruolo told us it would be important to network, and collectively we groaned at the prospect. The fear that grips you can be overwhelming when you have to introduce yourself to someone, tell them you're worth something when they've litigated huge cases and you're barely making it through Torts," Lange said. "But we did it. We talked to people we didn't know, we took on projects that made us feel like we were drowning, we argued in front of judges, a prospect that most of us never would have dreamed was possible. And we did all of it. And now, we're lawyers … and after two and a half more months of studying and taking what's the extremely hardest bar exam in the country, then we'll be lawyers.
"We did all that hard work because being a lawyer mattered to us," he continued. "Maybe we wanted to say we were proud of the extremely difficult work we were capable of. Maybe we wanted to have a discernable impact on the community. Or, maybe, we were attracted to the glitz and glamour of tax law. Regardless of our reasons, being a lawyer mattered to us. We've all put in hour after hour to reach this goal because it mattered. And sure, now we're all going to have to put in countless more hours at a job, but from now on, what you do will matter. You now have the ability to make a difference and each and every one of you can."
Lange also reflected on the people he met while at USD.
"I was told that law school would be this shark tank of individuals constantly competing and undermining each other, ripping pages out of legal text books looking to get an edge. But what I found at this law school was a community of people that always helped each other out. We shared outlines, we shared notes, we shared stories, and because of that, more than anything else we learned in law school, we will remember the people we met here at USD as the best part of the experience."
Watch the 2017 USD Law Commencement video.
About the University of San Diego School of Law
The University of San Diego (USD) School of Law is recognized for the excellence of its faculty, depth of its curriculum, and strength of its clinical programs. Each year, USD educates approximately 800 Juris Doctor and graduate law students from throughout the United States and around the world. The law school is best known for its offerings in the areas of business and corporate law, constitutional law, intellectual property, international and comparative law, public interest and taxation.
USD School of Law is one of the 84 law schools elected to the Order of the Coif, a national honor society for law school graduates. The law school's faculty is a strong group of outstanding scholars and teachers with national and international reputations and currently ranks 35th nationally and 6th on the West Coast among U.S. law faculties in scholarly impact and 24th nationally and 6th on the West Coast in all-time faculty downloads on the Social Sciences Research Network (SSRN). The school is accredited by the American Bar Association and is a member of the Association of American Law Schools. Founded in 1954, the law school is part of the University of San Diego, a private, independent, Roman Catholic university chartered in 1949.