Yale Law School Holds Roundtable on the Influence of Professor Larry Alexander
Yale Law School Holds Roundtable on the Influence of Professor Larry Alexander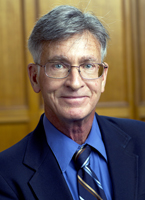 San Diego (May 19, 2017) – In celebration of University of San Diego (USD) School of Law Professor Larry Alexander and the forthcoming Moral Puzzles and Legal Perplexities: Essays on the Influence of Larry Alexander, a roundtable on the Influence of Larry Alexander was held at Yale Law School on Monday, May 15, 2017. Moral Puzzles and Legal Perplexities, which will be published by Cambridge University Press, will include essays from various esteemed colleagues of Alexander. The day-long roundtable was held to workshop some of the chapters for the book that are in draft form.
The event kicked-off with a welcome reception, hosted by the Illinois Program in Law and Philosophy, on Sunday night. On Monday, USD School of Law Dean Stephen Ferruolo, with Dean Robert Post (Yale Law) and Dean Vikram Amar (Illinois College of Law), gave the welcome and introduction. The other presentations included:
PARADOXES IN MORAL PHILOSOPHY
Moderator: Michael Moore (Illinois Law and Philosophy)
Kimberly Ferzan (Virginia Law)
Richard Arneson (UCSD)
PERPLEXITIES IN JURISPRUDENCE
Moderator: Christopher Wonnell (USD Law)
Emily Sherwin (Cornell Law)
Steven Smith (USD Law)
PROBLEMS IN CONSTITUTIONAL LAW
Moderator: Maimon Schwarzschild (USD Law)
Jeffrey Goldsworthy (Monash Law)
Laurence Claus (USD Law)
PUZZLES IN CRIMINAL LAW
Moderator: Gideon Yaffe (Yale Law)
Peter Westen (Michigan Law)
David Brink (UCSD)
Douglas Husak (Rutgers-New Brunswick Philosophy)
"The program was a wonderful tribute to Professor Alexander's influence as a legal scholar," said USD School of Law Dean Stephen Ferruolo. "The presentations on moral philosophy, jurisprudence, constitutional law and criminal law demonstrated the range of his scholarship and impact that he has had across four distinct areas of the law."
The event ended with a cocktail reception and dinner hosted by Gideon Yaffe and Yale's Center for Law and Philosophy.
About Lawrence Alexander
Professor Lawrence Alexander is the Warren Distinguished Professor of Law at the USD School of Law, where he teaches and writes in the areas of constitutional law, criminal law and jurisprudence. The author of more than 170 scholarly articles, Alexander is also the author of Is There a Right of Freedom of Expression? (Cambridge University Press, 2005), Rules and the Rule of Law (Duke University Press, 2001), and the co-author (with Professor Paul Horton) of Whom Does the Constitution Command? (Greenwood Press, 1988).
About the University of San Diego School of Law
The University of San Diego (USD) School of Law is recognized for the excellence of its faculty, depth of its curriculum, and strength of its clinical programs. Each year, USD educates approximately 800 Juris Doctor and graduate law students from throughout the United States and around the world. The law school is best known for its offerings in the areas of business and corporate law, constitutional law, intellectual property, international and comparative law, public interest and taxation.
USD School of Law is one of the 84 law schools elected to the Order of the Coif, a national honor society for law school graduates. The law school's faculty is a strong group of outstanding scholars and teachers with national and international reputations and currently ranks 35th nationally and 6th on the West Coast among U.S. law faculties in scholarly impact and 24th nationally and 6th on the West Coast in all-time faculty downloads on the Social Sciences Research Network (SSRN). The school is accredited by the American Bar Association and is a member of the Association of American Law Schools. Founded in 1954, the law school is part of the University of San Diego, a private, independent, Roman Catholic university chartered in 1949.