CPIL and CAI's Bob Fellmeth Quoted in San Diego Union Tribune on New Bill Targeting Sex Trafficking As Criminal Business
CPIL and CAI's Bob Fellmeth Quoted in San Diego Union Tribune on New Bill Targeting Sex Trafficking As Criminal Business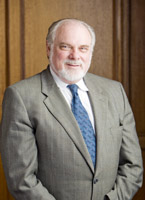 San Diego (April 13, 2017) – University of San Diego (USD) School of Law Professor Bob Fellmeth was quoted in a San Diego Union Tribune article that reported on the Commercial Child Rape Prevention Act, which has been introduced by San Diego Republican Assemblyman Brian Maienschein.
The bill will give state and local governments the ability to sue sex traffickers in civil court. According to the article, this bill will allow authorities to go after offenders as part of a larger criminal enterprise.
"No bill like it has been enacted in the country, and it's about time," said Fellmeth at a Wednesday news conference to draw attention to AB1495.
Fellmeth and Maienschein made the point that child prostitution is a commercial enterprise that spreads via the internet on classified advertising sites such as backpage.com and is often operated by gangs. The idea behind the bill is to cripple the industry through commercial prosecution.
"You get discovery," Fellmeth said. "You find out everyone connected. You don't just go trick by trick, as it were, getting one prostitute at a time with a decoy."
Read the full article on sandiegouniontribune.com.
About Professor Fellmeth
Robert Fellmeth is the Price Professor of Public Interest Law at the University of San Diego School of Law, where he teaches and writes in the areas of children's rights, regulation, antitrust, and consumer law. Professor Fellmeth is also the executive director of both USD's Center for Public Interest Law and Children's Advocacy Institute.
About the University of San Diego School of Law
The University of San Diego (USD) School of Law is recognized for the excellence of its faculty, depth of its curriculum, and strength of its clinical programs. Each year, USD educates approximately 800 Juris Doctor and graduate law students from throughout the United States and around the world. The law school is best known for its offerings in the areas of business and corporate law, constitutional law, intellectual property, international and comparative law, public interest and taxation.
USD School of Law is one of the 84 law schools elected to the Order of the Coif, a national honor society for law school graduates. The law school's faculty is a strong group of outstanding scholars and teachers with national and international reputations and currently ranks 35th nationally and 6th on the West Coast among U.S. law faculties in scholarly impact and 24th nationally and 6th on the West Coast in all-time faculty downloads on the Social Sciences Research Network (SSRN). The school is accredited by the American Bar Association and is a member of the Association of American Law Schools. Founded in 1954, the law school is part of the University of San Diego, a private, independent, Roman Catholic university chartered in 1949.