Sara and Ian Pike – Marriage and Law School
Sara and Ian Pike – Marriage and Law School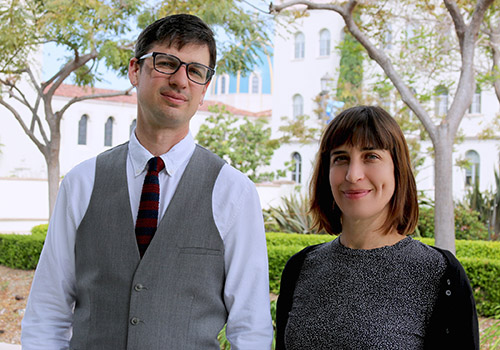 San Diego (May 3, 2017) - Sara and Ian Pike are not only married to each other but are also both first-year law students at USD.
Prior to meeting Ian, Sara lived in Spain, working as an English teacher during the school year and tour guide during the summer. In 2010, she learned artisanal chocolate making from Oriol Balaguer and then worked at Christian Camprini's confectionary studio in Valbonne and in L'Auberge de la Feniere in Lourmarin, France.
Similarly, Ian, who moved to San Diego a year after obtaining an English degree from Emmanuel College in 2008, was working as a baker in various restaurants when he met Sara. He was also working as a freelance writer with San Diego Reader, writing restaurant reviews. "It can be grueling working in restaurants," he said. "I wanted to start writing again."
The two met in 2011 in San Diego while Sara was preparing to move to France. After a long-distance relationship, the two married in 2014 and moved to Spain for about 10 months – where they took the LSAT after deciding they both wanted to attend law school. In October of 2015, they moved back to San Diego and started applying to schools.
"We chose USD law because we got a really friendly, open feeling from the students and faculty after visiting, and we wanted to stay in San Diego," said Sara.
During their first year of law school, Sara and Ian decided to volunteer their time to causes they feel passionate about, respectively. Sara volunteered at the VITA Tax Program, a program that is run by the IRS as a free service to help low-income individuals file their taxes without having to hire and pay for an accountant. "It felt good to help people from different walks of life and make the burden of filing taxes a little easier for them, and I learned a lot, too."
Ian volunteered at Clean Slate, a clinic that helps people expunge their criminal records. "It was very satisfying," he said of the experience. "The clients were very grateful, and it is extremely gratifying to already be able to help people and provide pro bono work with the legal education I've received in my first year of law school."
Both plan to continue volunteering in their second year and hope to write for one of the school's law journals. Sara wants to try out for the Transactional Law Team and Ian wants to continue pro bono work as well get involved in USD's Legal Clinics.
While both Sara and Ian agree they've leaned on each other for support throughout their first year, Sara also explains "law school is a very individualized experience. While it's nice to attend it together and understand what the other person is going through, being married doesn't really change the fact that it's still an uphill battle that, at the end of the day, we face independently."
But, she added, attending the same school is "great for the carpool permit!"
About the University of San Diego School of Law
The University of San Diego (USD) School of Law is recognized for the excellence of its faculty, depth of its curriculum, and strength of its clinical programs. Each year, USD educates approximately 800 Juris Doctor and graduate law students from throughout the United States and around the world. The law school is best known for its offerings in the areas of business and corporate law, constitutional law, intellectual property, international and comparative law, public interest and taxation.
USD School of Law is one of the 84 law schools elected to the Order of the Coif, a national honor society for law school graduates. The law school's faculty is a strong group of outstanding scholars and teachers with national and international reputations and currently ranks 35th nationally and 6th on the West Coast among U.S. law faculties in scholarly impact and 24th nationally and 6th on the West Coast in all-time faculty downloads on the Social Sciences Research Network (SSRN). The school is accredited by the American Bar Association and is a member of the Association of American Law Schools. Founded in 1954, the law school is part of the University of San Diego, a private, nonprofit, independent, Roman Catholic university chartered in 1949