USD School of Law 3L Transactional Law Team Named National Champion of the 2017 Transactional LawMeet
3L Transactional Law Team 2017 LawMeet National Champion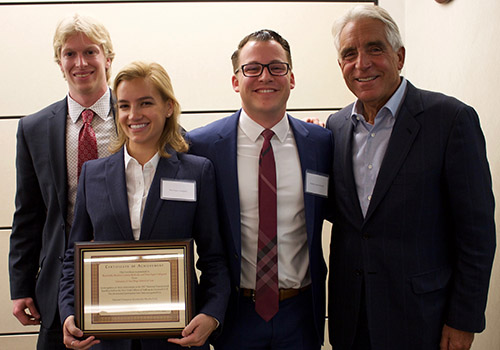 New York (April 5, 2017) – On Friday, March 31, 12 teams, including both University of San Diego (USD) School of Law Transactional Law Teams, competed in the National Championships of the 2017 Transactional LawMeet® hosted by the New York offices of Sullivan & Cromwell LLP. USD School of Law's 3L team, comprised of third-year students Ryan Kelly, Brandon Rebboah and Nina Sugar-Carlsgaard, was named National Champion on the Seller side.
This year's Transactional LawMeet® case involves the sale of the brewing, bottling and wholesale distribution operations (the "Division") of Kombucha Hoocha Ltd. ("KH") to a wholly-owned subsidiary of International Beverage Brands, Inc. ("IBB"). The drafting stage took place over two months, with students drafting key sections of the purchase agreement, interviewing their clients, and marking up opposing teams' drafts.
"It was an honor to represent the University of San Diego School of Law at the National Transactional LawMeet®," said Rebboah. "Ryan, Nina, and I were humbled to be named National Champions. I am so thankful for Dean Ferruolo's guidance; we could not have done it without his mentorship. I'm equally proud of the 2L team for also making the National LawMeet. I have no doubt they will be back next year!"
Congratulations to both USD School of Law Transactional Law Teams!
About USD School of Law Transactional Law Team
The University of San Diego's Transactional Law Team ("TLT") is a growing program that officially began in the 2015-2016 academic year. TLT was organized to offer students a "moot court-like" experience in a transactional setting. TLT is designed to give law students a hands-on experience in developing and honing transactional lawyering skills.
TLT members compete in the National Transactional LawMeet, which was created to give students an opportunity to compete against other schools in the realm of "deal making." Although the specific agreement and/or transaction will vary from year to year, the competition is designed to present essential challenges in transactional problem solving—the very type that corporate attorneys or in-house counsel tackle on a daily basis.
About LawMeets
LawMeets was founded in 2010 by Drexel University law professor Karl Okamoto to deliver practical skills exercises to law students interested in transactional law. He organized the first Transactional LawMeet, with 11 participating teams, in 2010. This year, LawMeets organized the 8th Annual Transactional LawMeet, with 84 participating teams. In 2011, LawMeets added the Intellectual Property LawMeet. In addition to hosting competitions for law students, LawMeets creates practical skills exercises for law professors that are delivered through an online platform.
About the University of San Diego School of Law
The University of San Diego (USD) School of Law is recognized for the excellence of its faculty, depth of its curriculum, and strength of its clinical programs. Each year, USD educates approximately 800 Juris Doctor and graduate law students from throughout the United States and around the world. The law school is best known for its offerings in the areas of business and corporate law, constitutional law, intellectual property, international and comparative law, public interest and taxation.
USD School of Law is one of the 84 law schools elected to the Order of the Coif, a national honor society for law school graduates. The law school's faculty is a strong group of outstanding scholars and teachers with national and international reputations and currently ranks 35th nationally and 6th on the West Coast among U.S. law faculties in scholarly impact and 24th nationally and 6th on the West Coast in all-time faculty downloads on the Social Sciences Research Network (SSRN). The school is accredited by the American Bar Association and is a member of the Association of American Law Schools. Founded in 1954, the law school is part of the University of San Diego, a private, nonprofit, independent, Roman Catholic university chartered in 1949.