USD School of Law Professor Michael Ramsey Discusses the Gorsuch Hearings
Professor Michael Ramsey Discusses the Gorsuch Hearings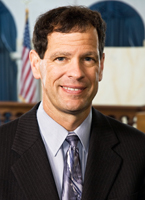 San Diego (March 30, 2017) – In a podcast by the National Constitution Center, University of San Diego (USD) School of Law Professor Michael Ramsey discussed the hearings on Judge Gorsuch's nomination to the U.S. Supreme Court with National Constitution Center President Jeffrey Rosen and Georgia State Law School Professor Eric Segall.
The discussion in the podcast, titled "The Gorsuch Hearings and the Future of the Constitution," also addressed originalism, a method of constitutional interpretation Judge Gorsuch favors, and how it was presented in the hearings.
Listen to the full podcast here.
About Professor Michael Ramsey
Professor Michael Ramsey teaches and writes in the areas of constitutional law, foreign relations law and international business law. Ramsey clerked for the Honorable J. Clifford Wallace of the U.S. Court of Appeals for the Ninth Circuit and for the Honorable Antonin Scalia of the U.S. Supreme Court. He practiced international business law with the firm of Latham & Watkins. Ramsey taught as a visiting professor at the University of California, San Diego department of political science and at the University of Paris-Sorbonne department of comparative law. He joined the USD School of Law faculty in 1995.
About the University of San Diego School of Law
The University of San Diego (USD) School of Law is recognized for the excellence of its faculty, depth of its curriculum, and strength of its clinical programs. Each year, USD educates approximately 800 Juris Doctor and graduate law students from throughout the United States and around the world. The law school is best known for its offerings in the areas of business and corporate law, constitutional law, intellectual property, international and comparative law, public interest and taxation.
USD School of Law is one of the 84 law schools elected to the Order of the Coif, a national honor society for law school graduates. The law school's faculty is a strong group of outstanding scholars and teachers with national and international reputations and currently ranks 35th nationally and 6th on the West Coast among U.S. law faculties in scholarly impact and 24th nationally and 6th on the West Coast in all-time faculty downloads on the Social Sciences Research Network (SSRN). The school is accredited by the American Bar Association and is a member of the Association of American Law Schools. Founded in 1954, the law school is part of the University of San Diego, a private, independent, Roman Catholic university chartered in 1949.