USD Law Professor Larry Alexander Heavily Quoted in Yahoo/ABC Article about Officer in Ferguson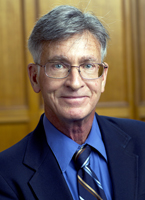 San Diego (August 21, 2014) – University of San Diego (USD) School of Law Professor Larry Alexander was heavily quoted in a Yahoo/ABC News article about the officer involved in the fatal shooting of Michael Brown in Ferguson, Mo.
The article solicited feedback from prominent criminal law professors across the country on the question: Should there be a different legal standard when it comes to arresting a police officer versus an ordinary civilian? Law professors are sharply divided on the answer, especially as it pertains to the shooting of Michael Brown and the available public information. The response to the question isn't simply academic when protestors in Ferguson say they won't go home until they see "justice" done. Might an arrest ease tensions?
While anyone can be arrested, U.S. citizens usually can't be kept in custody beyond 24 hours (depending on circumstances and state laws) unless they are charged with a crime. For someone to be charged, there must be "probable cause" that a crime has been committed.
In this case, police and prosecutors must decide whether there is "probable cause" to suspect that Ferguson police officer Darren Wilson unlawfully killed Mike Brown.
To find the answer, the St. Louis County prosecutor impaneled a grand jury and the F.B.I. deployed almost 50 agents—an unusually high number. When the grand jury completes its investigation, the local prosecutor will decide whether to charge Wilson for a crime, a step that could be as early as this week, Reuters reported.
USD Warren Distinguished Professor of Law Lawrence Alexander calls it "irresponsible" for other academics to call for an arrest. "Those people don't know the facts. You can't just call someone to be arrested when you don't have evidence that they committed a crime," he says.
If Wilson is arrested, Professor Alexander weighs in on the possible criminal charges. Because the prosecutor must prove beyond a reasonable doubt—a high legal standard—that Wilson is guilty, he will most likely not be charged with first or second-degree murder.
If anything, he would be charged with voluntary manslaughter or lesser offenses, says Alexander, but added that it was premature to say.
"All I've heard is conflicting evidence and the autopsies aren't completed yet, says Alexander. "It would be extraordinary to bring charges this early," and arrest the officer.
Alexander notes that the local investigation could be compromised due to the district attorney's long-time working relationship with the police, likening it to "prosecuting a member of your family."
Read other perspectives on the case in the full article online.
About Lawrence Alexander
Professor Lawrence Alexander is the Warren Distinguished Professor of Law at the USD School of Law, where he teaches and writes in the areas of constitutional law, criminal law and jurisprudence. The author of more than 170 scholarly articles, Alexander is also the author of Is There a Right of Freedom of Expression? (Cambridge University Press, 2005), Rules and the Rule of Law (Duke University Press, 2001), and the co-author (with Professor Paul Horton) of Whom Does the Constitution Command? (Greenwood Press, 1988).
About the University of San Diego School of Law
Celebrating 60 years of alumni success, the University of San Diego (USD) School of Law is recognized for the excellence of its faculty, depth of its curriculum, and strength of its clinical programs. Each year, USD educates approximately 900 Juris Doctor and graduate law students from throughout the United States and around the world. The law school is best known for its offerings in the areas of business and corporate law, constitutional law, intellectual property, international and comparative law, public interest and taxation.
USD School of Law is one of the 81 law schools elected to the Order of the Coif, a national honor society for law school graduates. The law school's faculty is a strong group of outstanding scholars and teachers with national and international reputations and currently ranks 23rd worldwide in all-time faculty downloads on the Social Sciences Research Network (SSRN). The school is accredited by the American Bar Association and is a member of the Association of American Law Schools. Founded in 1954, the law school is part of the University of San Diego, a private, nonprofit, independent, Roman Catholic university chartered in 1949.