USD Alumna Lynn Schenk '70 (JD) to Receive Prestigious Fay Stender Award from California Women Lawyers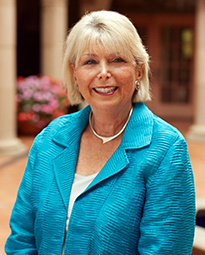 Sacramento (July 31, 2014) – The California Women Lawyers (CWL) at its 40th Anniversary Annual Dinner & Silent Auction will present the Fay Stender Award to University of San Diego (USD) School of Law alumna and former United States Representative Lynn Schenk, '70 (JD), on September 11, 2014, at the Manchester Grand Hyatt Hotel in San Diego. The dinner will also feature keynote speaker Joyce L. Kennard, former associate justice of the Supreme Court of California.
The award was created in 1982 in honor of Fay Stender, a founding mother of CWL and staunch supporter of under-represented groups and individuals. The award is presented each year at the CWL Annual Dinner to someone who has demonstrated feminist perspective, has served as a role model for women attorneys, and has demonstrated ability to affect change as a single individual, among other qualities shared with Fay Stender.
"Ms. Schenk is a true legend in the legal community of California and the United States. As a founding mother of CWL and early pioneer of women rights, she has paved the way for the continued fight for equal rights," said CWL President Neda Mansoorian, partner at McManis Faulkner. "Since 1971, Ms. Schenk has continued establishing herself as a true trailblazer, in the same fashion as Fay Stender."
Schenk is a former member of the U.S. House of Representatives and has held multiple leadership roles for the California state government. Among her many accomplishments, Schenk is credited with being the first woman to hold a cabinet post as Secretary of the California Business, Transportation and Housing Agency during her tenure with Governor Jerry Brown. She also became California's first female Chief of Staff when appointed by Governor Gray Davis. Furthermore, Schenk holds the recognition of being the first Congresswoman elected south of Los Angeles. She is a founding mother of Lawyers Club of San Diego and CWL, both of which have missions to advance the status of women in law and society.
Still active in the legal community, Schenk serves on the Board of Directors for Sempra Energy and BIOGEN IDEC, and is a member of the California High Speed Rail Authority.
In addition to providing the keynote address, Justice Kennard will receive CWL's Lifetime Achievement Award. Appointed to the California Supreme Court in 1989 by Governor George Deukmejian, Justice Kennard became the second woman and the first Asian American to serve as a justice on the Court. Justice Kennard, who retired on April 5, 2014 after 25 years of service, will be delivering an address that reflects on her inspiring career.
Reservations for the 40th Annual Dinner & Silent Auction are due by September 4. Additional details and registration information can be found on the CWL website.
California Women Lawyers is the only statewide bar association dedicated to promoting the advancement of women in the profession of law and society. The organization has represented the interests of more than 30,000 women in all facets of the legal profession, influencing lawyers, educators, students and judges. CWL was founded in 1974 as a commitment to the advancement of women, to universal equal rights and to the elimination of unfair bias.
About the University of San Diego School of Law
Celebrating 60 years of alumni success, the University of San Diego (USD) School of Law is recognized for the excellence of its faculty, depth of its curriculum, and strength of its clinical programs. Each year, USD educates approximately 900 Juris Doctor and graduate law students from throughout the United States and around the world. The law school is best known for its offerings in the areas of business and corporate law, constitutional law, intellectual property, international and comparative law, public interest and taxation.
USD School of Law is one of the 81 law schools elected to the Order of the Coif, a national honor society for law school graduates. The law school's faculty is a strong group of outstanding scholars and teachers with national and international reputations and currently ranks 23rd worldwide in all-time faculty downloads on the Social Sciences Research Network (SSRN). The school is accredited by the American Bar Association and is a member of the Association of American Law Schools. Founded in 1954, the law school is part of the University of San Diego, a private, nonprofit, independent, Roman Catholic university chartered in 1949.