Professor Robert Fellmeth Quoted in Union Tribune Article About South County Corruption Convictions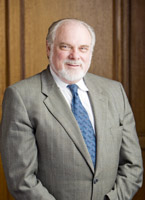 San Diego (July 4, 2014) – The San Diego Union Tribune quoted University of San Diego (USD) School of Law Professor Robert Fellmeth in an article that reported on the final outcome of pay-to-play charges between officials and contractors in Sweetwater and San Ysidro School districts and Southwestern College.
Although 22 of the original 250 charges were successfully prosecuted, all 18 defendants pleaded guilty or no content to at least one charge.
San Diego District Attorney Bonnie Dumanis said in a news release recapping the wide-ranging probe that she is proud of the case and the outcome.
"For years, public officials regularly accepted what amounted to bribes in exchange for their votes on multimillion dollar construction projects," Dumanis said. "The fact that some charges were reduced or dismissed during the pendency of these cases does not diminish the fact that justice was ultimately obtained, public officials were held accountable for their criminal behavior, and a culture of corruption has been dismantled."
The case resulted in 21 guilty pleas, one no contest plea, $80,000 in fines, 1,140 hours of community service and removal from office of four board members from the Sweetwater schools and one from San Ysidro.
"I think it's a victory for Dumanis," said Robert Fellmeth, director of the University of San Diego's Center for Public Interest Law and a former deputy district attorney. "I don't know of any case I can think of right now that went after 18 and got them all. That sends a better message than picking two fall guys and putting them away for two years," which would have been easier for Dumanis.
As additional impact, Dumanis also noted state legislation authored by Assemblywoman Lorena Gonzalez (D-San Diego) that was inspired by South County revelations. If approved by the state Senate, administrators would be banned from raising or receiving campaign cash for their elected officials.
Read the full article on utsandiego.com.
About Robert Fellmeth
Robert Fellmeth is the Price Professor of Public Interest Law at the University of San Diego School of Law, where he teaches and writes in the areas of children's rights, regulation, antitrust, and consumer law. Professor Fellmeth is also the executive director of both USD's Center for Public Interest Law and Children's Advocacy Institute.
About the University of San Diego School of Law
Celebrating 60 years of alumni success, the University of San Diego (USD) School of Law is recognized for the excellence of its faculty, depth of its curriculum, and strength of its clinical programs. Each year, USD educates approximately 900 Juris Doctor and graduate law students from throughout the United States and around the world. The law school is best known for its offerings in the areas of business and corporate law, constitutional law, intellectual property, international and comparative law, public interest and taxation.
USD School of Law is one of the 81 law schools elected to the Order of the Coif, a national honor society for law school graduates. The law school's faculty is a strong group of outstanding scholars and teachers with national and international reputations and currently ranks 23rd worldwide in all-time faculty downloads on the Social Sciences Research Network (SSRN). The school is accredited by the American Bar Association and is a member of the Association of American Law Schools. Founded in 1954, the law school is part of the University of San Diego, a private, nonprofit, independent, Roman Catholic university chartered in 1949.