Professor Orly Lobel Discusses Spread of Non-compete Contracts in Service Sector on Wall Street Journal's MarketWatch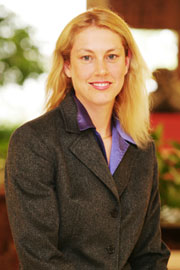 New York (June 27, 2014) – Joan Donagher from the Wall Street Journal's MarketWatch program interviewed University of San Diego (USD) School of Law Professor Orly Lobel about the growth of non-compete clauses outside of traditional intellectual property business sectors. The agreements are becoming more common among lower-paying service sector jobs, and the practice is spreading fast.
"It's booming," says Lobel in the interview. "It has become basically standard in so many industries, so many types of different jobs."
Increasingly, employers are requiring even service employees to sign contracts that state they will not leave the company to work for a competitor or start their own businesses within a certain amount of time, usually two to five years. Many of these service employees don't know the limits of these kinds of contracts or clauses.
"What is interesting about non-compete laws is that it is all state law," said Lobel. "It's contact law, so there are many states that have quite clear boundaries on how much they will enforce non-competes."
Enforcement of non-compete agreements varies state to state. California is a rare exception; the state doesn't enforce non-competes. According to Lobel, anything that looks like a non-compete in California "will just be void. Employees should know that they are free to move around, to accept a job with a competitor, or go off on their own and to start something entrepreneurial in that profession even if the employer has basically illegally demanded this kind of non-compete."
In other states it's trickier. The courts decide cases individually based on the evidence that the non-compete agreement is reasonable. In states other than California, Lobel suggests asking a lawyer for assistance.
In many cases, the cost for legal counsel is not affordable to those who earn service-level wages. Lobel calls this "the real cost of non-competes," where people—even if they stood a good chance in court—will usually decide not to challenge it, will adhere to the signed agreement, and take a professional detour.
"They will do something other than what they are passionate about or experienced in and what they love to do," says Lobel. "That's a real cost, not only to the person herself, but also to the entire economy of a region where people are not employing their skills and talent in what they want to do."
Donagher asked Lobel why these contracts are being expanding at such a rate to lower-waged jobs. Why do businesses in sectors other than intellectual property feel non-competes are necessary?
"I would dispute that even in some of the higher-skilled knowledge work that they are really necessary," says Lobel. "I think that what we see is that businesses are becoming kind of lazy. They think that they can restrict, and that's the way they avoid competition rather than fighting for clients and doing the best they can to retain happy customers."
Lobel suggests those business just want to stagnate what competition is all about, what vibrant markets are all about: people doing the best they can do in order to win and keep clients. Competition is "not about preventing someone from opening another shop."
In the long run, Lobel points out that it's a repeat game, and that employers are hurting themselves by requiring these sorts of agreements.
"Even though it's tempting to require these sort of restrictions," she says, businesses will eventually want to recruit new talent, to get the best employees to join them. They may not be able to do this if there are non-compete clauses in effect from previous employers. Lobel states that in a region like California, where non-compete agreements are not enforced, where there is more employee mobility, innovations continue and therefore every one gains in the long run.
Listen to the full interview online at marketwatch.com.
About Professor Lobel
An internationally acclaimed expert in the law and economics of human capital, Orly Lobel is the Don Weckstein Professor of Law at the University of San Diego and founding faculty member of the Center for Intellectual Property and Markets. She teaches and writes in the areas of employment law, intellectual property law, regulatory and administrative law, torts, behavioral economics, health policy, consumer law and trade secrets. Her current research focuses on innovation policy and intellectual property. Lobel's latest book is Talent Wants to be Free: Why We Should Learn to Love Leaks, Raids, and Free-Riding.
About the University of San Diego School of Law
Celebrating 60 years of alumni success, the University of San Diego (USD) School of Law is recognized for the excellence of its faculty, depth of its curriculum, and strength of its clinical programs. Each year, USD educates approximately 900 Juris Doctor and graduate law students from throughout the United States and around the world. The law school is best known for its offerings in the areas of business and corporate law, constitutional law, intellectual property, international and comparative law, public interest and taxation.
USD School of Law is one of the 81 law schools elected to the Order of the Coif, a national honor society for law school graduates. The law school's faculty is a strong group of outstanding scholars and teachers with national and international reputations and currently ranks 23rd worldwide in all-time faculty downloads on the Social Sciences Research Network (SSRN). The school is accredited by the American Bar Association and is a member of the Association of American Law Schools. Founded in 1954, the law school is part of the University of San Diego, a private, nonprofit, independent, Roman Catholic university chartered in 1949.