Professor Robert Fellmeth Quoted in LA Times Article About California's Troubled Private Foster Care System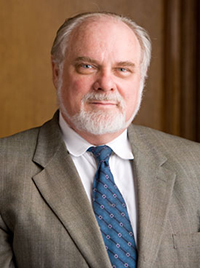 Los Angeles (June 20, 2014) – The Los Angeles Times quoted University of San Diego (USD) School of Law Professor Robert Fellmeth in an article reporting on questionable financial practices at one of Los Angeles' biggest private foster care agencies. Fellmeth is the Price Professor of Public Interest Law and the executive director of the Children's Advocacy Institute (CAI) at USD.
Los Angeles County auditors looking into one of county's biggest foster care agencies in 2003 uncovered $445,000 in ineligible or unsupported spending, including $234,000 in wages with no supporting documents to verify the hours worked, up to $29,000 in unsupported vehicle expenses, and $47,000 that the agency paid to purchase one building and lease another from its top executives, according to the audit report.
The county Department of Children and Family Services demanded that the private agency, Homes of Hope, return $440,000. Five years later, the county agreed to settle the matter for $36,000, to be paid in installments without interest. Homes of Hope is still paying off the debt today—at $600 per month.
Homes of Hope is emblematic of the decades-long failure to adequately monitor California's $400-million-a-year private foster care industry. The agency, which receives about $3.6 million a year to care for neglected children, has become the focus of a renewed government effort to impose stricter controls on private groups that recruit and supervise foster families.
California began an experiment nearly 27 years ago that took a portion of foster care away from county bureaucrats and placed it in the hands of private agencies that legislators believed would be cheaper, more efficient and better for children who found their way into the system.
The privatization of foster care poured hundreds of millions of dollars into a system that had been dominated by government-run facilities. The private system now cares for more than 80 percent of foster children placed with strangers in Los Angeles County.
The state pays the private agencies about $2,000 per child each month. As much as 60 percent of that money can be retained by the agency to pay for rent, supplies and salaries for administrators and social workers, who make weekly visits to foster homes to ensure children are properly cared for.The more children the charities place in homes, the more income.
Monitoring the finances of the 46 private foster care agencies in Los Angeles County is the responsibility of the auditor controller. Five staff members are assigned to the task.
Robert Fellmeth, director of the Children's Advocacy Institute at the University of San Diego School of Law, said: "When there are incentives to gather large numbers of foster homes without contributing very much to the kids' care, you need to check properly. Are they doing it? No."
Read the full article on latimes.com.
About Robert Fellmeth
Robert Fellmeth is the Price Professor of Public Interest Law at the University of San Diego School of Law, where he teaches and writes in the areas of children's rights, regulation, antitrust, and consumer law. Professor Fellmeth is also the executive director of both USD's Center for Public Interest Law and Children's Advocacy Institute.
About the University of San Diego School of Law
Celebrating 60 years of alumni success, the University of San Diego (USD) School of Law is recognized for the excellence of its faculty, depth of its curriculum, and strength of its clinical programs. Each year, USD educates approximately 900 Juris Doctor and graduate law students from throughout the United States and around the world. The law school is best known for its offerings in the areas of business and corporate law, constitutional law, intellectual property, international and comparative law, public interest and taxation.
USD School of Law is one of the 81 law schools elected to the Order of the Coif, a national honor society for law school graduates. The law school's faculty is a strong group of outstanding scholars and teachers with national and international reputations and currently ranks 23rd worldwide in all-time faculty downloads on the Social Sciences Research Network (SSRN). The school is accredited by the American Bar Association and is a member of the Association of American Law Schools. Founded in 1954, the law school is part of the University of San Diego, a private, nonprofit, independent, Roman Catholic university chartered in 1949.