CPIL's Julie Fellmeth Provides Expert Commentary on Assembly Bill 2346 in Los Angeles Times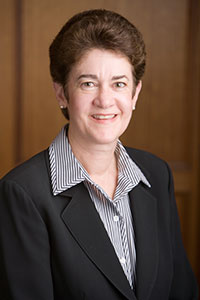 Los Angeles (May 16, 2014) – Today, Julie D'Angelo Fellmeth, the administrative director at the Center for Public Interest Law (CPIL) at the University of San Diego (USD) School of Law provided expert commentary for a Los Angeles Times article reporting on Assembly Bill 2346, a measure that would authorize the medical board to contract with an outside party for establishment of a voluntary and confidential program to assist substance-abusing physicians.
In the article, columnist Michael Hiltzik discusses how the state's previous effort to create an intervention program for substance-abusing physicians resulted in addicted doctors being diverted into treatment as an alternative to disciplinary proceedings that could have resulted in the suspension or loss of their licenses. Operated under the jurisdiction of the California Medical Board, the intervention program was audited five times between 1981 and 2008 and flunked every time. The medical board engaged in almost no effective supervision of the program, which was chronically understaffed and underfunded. Doctors were able to manipulate the program and effectively evade medical board discipline.
Fellmeth was appointed the medical board's enforcement monitor in 2003. As she wrote in her 2005 audit, in many cases the doctors' participation was kept secret "from the board's enforcement program, their patients, and the public," and they often kept seeing patients.
Goaded by Fellmeth's report, the medical board voted unanimously in 2008 to kill the diversion program outright. Since then, there has been no state-sponsored rehab program for doctors, though it is not absolutely clear that one is necessary.
"Substance abuse by doctors is a very serious problem," says Fellmeth, "But that doesn't mean there has to be a state-sponsored program to deal with it."
Read the entire article on LATimes.com.
About Julie D'Angelo Fellmeth
Julie D'Angelo Fellmeth serves as administrative director of the Center for Public Interest Law at USD School of Law and editor of the California Regulatory Law Reporter. She supervises CPIL's student intern program, team-teaching regulatory law courses with Professor Robert C. Fellmeth and assisting law students in their monitoring of agencies and drafting of articles for the California Regulatory Law Reporter.
About the Center for Public Interest Law
Founded in 1980, the University of San Diego School of Law's Center for Public Interest Law (CPIL) serves as an academic center of research and advocacy in regulatory and public interest law. CPIL focuses its efforts on the study of the extremely powerful, yet often overlooked, level of government: state regulatory agencies. Under the supervision of experienced public interest attorneys and advocates, CPIL law student interns study California agencies that regulate business, professions, and trades.
In addition to its academic program, CPIL's advocacy component represents the interests of the unorganized and underrepresented in California's legislature, courts and regulatory agencies. Particularly active in reforming the state's professional discipline systems for attorneys and physicians and in advocating public interest reforms to the state's open meetings and public records statutes, CPIL strives to make regulatory functions of California government more efficient and visible by serving as a public monitor of state regulatory activity.
About the University of San Diego School of Law
Celebrating 60 years of alumni success, the University of San Diego (USD) School of Law is recognized for the excellence of its faculty, depth of its curriculum, and strength of its clinical programs. Each year, USD educates approximately 900 Juris Doctor and graduate law students from throughout the United States and around the world. The law school is best known for its offerings in the areas of business and corporate law, constitutional law, intellectual property, international and comparative law, public interest and taxation.
USD School of Law is one of the 81 law schools elected to the Order of the Coif, a national honor society for law school graduates. The law school's faculty is a strong group of outstanding scholars and teachers with national and international reputations and currently ranks 23rd worldwide in all-time faculty downloads on the Social Sciences Research Network (SSRN). The school is accredited by the American Bar Association and is a member of the Association of American Law Schools. Founded in 1954, the law school is part of the University of San Diego, a private, nonprofit, independent, Roman Catholic university chartered in 1949.