KUSI-TV News' Steve Bosh Interviews Professor Orly Lobel About Aereo v. ABC Case Before the U.S. Supreme Court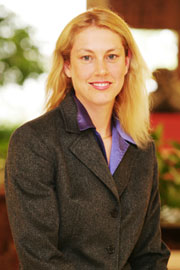 San Diego (April 22, 2014) – University of San Diego (USD) School of Law Professor Orly Lobel was interviewed by KUSI-TV News correspondent Steve Bosh for an on-air report, "Aereo television technology goes before Supreme Court." Aereo is a new technology that assigns each of its subscribers a tiny antenna, about the size of a dime, that can access broadcast television signals.
The broadcasters claim Aereo is stealing copyrighted programming and not paying retransmission fees. If Aereo wins the case the networks have threaten to stop broadcasting.
Television signals have been historically picked up by a roof top antennas or rabbit ears. As technology changed, the television signals additionally came through cable networks. This was considered a retransmission because it was no longer accessed from an antenna and therefore subject to fees by the copyright owner. Aereo says it's not retransmitting. It's merely pulling the signal out of the air, which the copyright law defines as a public performance.
"I think they are right, that is not a public performance," said Lobel referring to arguments made by attorneys representing Aereo. "That's just the language of the copyright act, where the fight will be."
Similar claims were made when the VCR was introduced and the same for cable's DVR, and now Aereo is being challenged. The broadcasters want the court to validate their business model.
"The claim that a new technology disrupts a business model is not a legal claim," said Lobel. She says this is just another example of the broadcasters crying wolf, saying it will severely damage their business.
Read Lobel's remarks in a recent
Boston Herald
story about the Aereo case.
About Professor Lobel
An internationally acclaimed expert in the law and economics of human capital, Orly Lobel is the Don Weckstein Professor of Law at the University of San Diego and founding faculty member of the Center for Intellectual Property and Markets. She teaches and writes in the areas of employment law, intellectual property law, regulatory and administrative law, torts, behavioral economics, health policy, consumer law and trade secrets. Her current research focuses on innovation policy and intellectual property. Lobel's latest book is Talent Wants to Be Free: Why We Should Learn to Love Leaks, Raids, and Free-Riding.
About the University of San Diego School of Law
Celebrating 60 years of alumni success, the University of San Diego (USD) School of Law is recognized for the excellence of its faculty, depth of its curriculum, and strength of its clinical programs. Each year, USD educates approximately 900 Juris Doctor and graduate law students from throughout the United States and around the world. The law school is best known for its offerings in the areas of business and corporate law, constitutional law, intellectual property, international and comparative law, public interest and taxation.
USD School of Law is one of the 81 law schools elected to the Order of the Coif, a national honor society for law school graduates. The law school's faculty is a strong group of outstanding scholars and teachers with national and international reputations and currently ranks 23rd worldwide in all-time faculty downloads on the Social Sciences Research Network (SSRN). The school is accredited by the American Bar Association and is a member of the Association of American Law Schools. Founded in 1954, the law school is part of the University of San Diego, a private, nonprofit, independent, Roman Catholic university chartered in 1949.