Academic Success Fellow Joey Mellano's Love of Teaching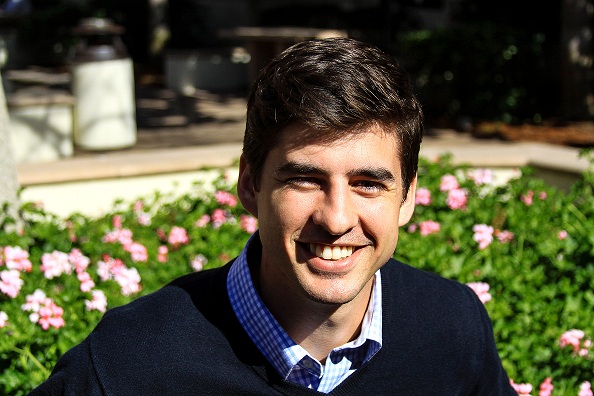 San Diego (April 28, 2014) – When Joey Mellano, '15 (JD), served as a mentor to a first-year law student this fall, the experience made him long to be a teacher again and led him to apply to work as an Academic Success Fellow for Professor Miranda McGowan's constitutional law I class.
Mellano was introduced to teaching after graduation from Brown University when he worked for two years as a substitute math teacher, private tutor, and baseball coach. He especially liked working with junior high students: "I was scared of the really little guys, always afraid I'd crush one of them, and the older students were just bored and eager to be done with school. But the seventh and eighth graders were much more open, and it was so much fun helping them."
Mellano came to law school thinking he wanted to practice immigration law. "My family has been in the flower business in North County since my grandfather came here from Italy in 1925. Because many of our employees are immigrants, as were many of the students and their families whom I met when I was teaching, I was well aware of the struggles immigrants can face."
Mellano recalls one student in particular, an illegal immigrant who spoke no English and who had been assigned to write on the topic, "If you could invent anything, what would you invent, and why"? Mellano was startled when the student answered that his goal was "to invent a cactus suit so the border patrol does not catch me when we cross the border."
Mellano remembers thinking first that his student's response was funny, and then that it was profoundly sad, and he thinks it was at this point, when he became so sharply aware of the fear that his student and the student's family lived with on a daily basis, that he started thinking long and hard about immigrations issues and began to consider attending law school. Although Mellano is now interested in white collar crime prosecution and securities litigation, he hopes to work with immigrants on a pro bono basis.
As a fellow, Mellano prepares PowerPoint presentations for his small-group meetings and materials for TWEN every week. He also offers four review sessions for the entire section during the semester. "Con law can be difficult for students. It can seem amorphous and theoretical, and very different from other first year classes." Next year, Mellano will be working in the program again with Professor Steve Smith's Torts class. "Besides being fun and rewarding, this is the best possible preparation for the bar exam: I never know a subject as well as when I have to teach it."
In addition to working as a fellow, Mellano is involved in many other campus activities. Notably, he is a member of the San Diego International Law Journal and will be chief student comments editor next year. Since he played high school and varsity college baseball, it's not surprising that Mellano likes to unwind by playing Thursday night softball with his law school team, "Torts Illustrated: Swimsuit Edition."
(Students who are interested in becoming Academic Success Fellows should contact the director of the program, Kiyana Kiel: Kiyanakiel@sandiego.edu.)