Charlynne Rejaian, Editor-in-Chief of VICAM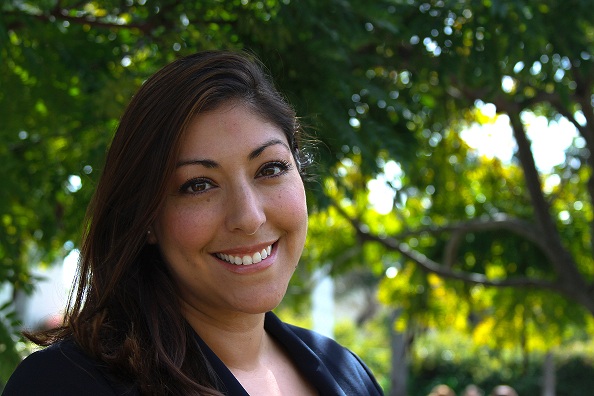 Charlynne Rejaian, '14 (JD), is the editor-in-chief of USD's Vis International Arbitration Moot Court Team. This prestigious competition, named for internationally esteemed lawyer Willem C. Vis, brings together teams from all over the world for annual competitions in Vienna and Hong Kong to arbitrate issues arising in international commercial and business law.
Rejaian, a fourth-year part-time student, saw a flyer for the competition in the fall of her third year and she was intrigued. She made the team and competed in Hong Kong in spring 2013, and she will be headed to Vienna in April 2014. Typically, about 100 teams will compete in Hong Kong and about 300 in Vienna in competitions that will take place this year the week before Easter. Last year the USD Hong Kong team won two honorable mention awards, one each for the claimant and respondent memorandums; this year the Hong Kong team received an honorable mention for the claimant's memorandum, while the Vienna team placed an amazing sixteenth in the world.
Rejaian explained that the Vis Moot competition differs from the typical moot court competition. To begin with, the format is very different. "The arbitration includes formal arguments from both sides, but because the setting is modeled more like a business meeting, it feels more relaxed than an appellate moot." The best competitors are deferential yet conversational with the tribunal. Because she had a background in business, having managed sales and distribution for several adult beverage importers before attending law school, this type of competition built on Rejaian's existing skills. She also had some understanding of the dynamics of international law because when she worked for FIJI Water and Pernod-Ricard, she saw firsthand the financial and operational impact of such things as late shipments. Rejaian's undergraduate theater major didn't hurt either: "I feel comfortable speaking in public."
There is a rigorous year-long process to prepare for the competition. The team splits the various tasks, from doing basic research on the issues to writing the memoranda. One of Rejaian's duties as editor-in-chief was to supervise the memoranda-writing process. Memoranda from all participants are written in English, considered a universal language, and although "you'd think this would be a big advantage for us, really all the memoranda we saw were of very high quality." The argument section of the memoranda is limited to 35 pages, but because of the volume of international sources used, the finished product for many teams often exceeds 80 pages.
Instead of the common law system of stare decisis used in the U.S., competitors approach the moot as if practicing in a civil law system. The international body of law relied on by the competitors includes various codes governing international business transactions. The Vis Moot always utilizes issues that require an analysis of the Convention for International Sale of Goods (CISG), and the arbitral rules of a chosen international arbitration institution. If and when cases on point exist, they are never binding but instead are used for illustrative purposes to persuade the tribunal.
Although many European teams take a full year off from school to prepare and receive class credit for their participation, the USD team juggles preparation with their already crowded schedules. They spend the fall semester preparing the memoranda and the spring semester practicing oral arguments two or three times a week, aiming for a respectful and reasonable, as well as a persuasive, tone. "One of the best results of all this hard work is that by spending so much time together working towards a common goal, we've developed a tight-knit team and lasting friendships," Rejaian noted.
Rejaian encourages any student with an interest in international, commercial, or business law to consider trying out for the team. "The practical training is invaluable, and of, course, getting the opportunity to travel to Hong Kong or Vienna to interact with students from all over the world is just incredible."