Jon Jekel, President of the Intellectual Property Law Association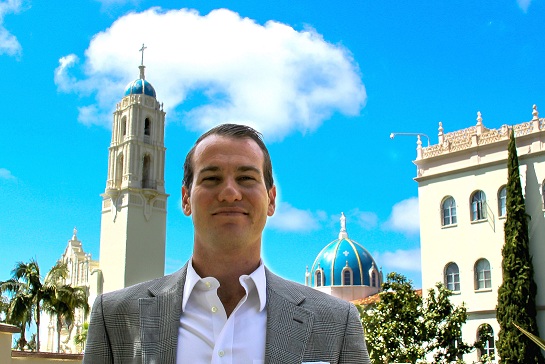 San Diego (April 14, 2014) – In discussing his role in making USD's Intellectual Property Law Association (IPLA) a success this year, Jon Jekel, '14 (JD), quoted Chinese philosopher Lao-Tzu: "When the best leader's work is done, the people say, 'We did it ourselves.'" Instead of managing all aspects of the association himself, Jekel has implemented procedures that enable members to share the leadership role. "I believe a leader's job is to inspire good work by others," he said. "The tools were already there. I just helped put them to work."
Many of Jekel's ideas about effective leadership come from his years working at a major San Diego hotel. In two years, he managed several departments, including VIP Services, where he catered to thousands of high-profile guests each year, and the multimillion-dollar spa with nearly 30 employees. "I had no experience in hospitality when I started," he said. "A month later, I was running my first department. The key to my success was the ability to creatively solve systemic problems—to turn a group of employees into a team."
Building on that experience, Jekel developed a committee program for first and second-year law students. Committee members learn how to put on events, and are given priority for future board positions. When Jekel joined the IPLA Board, it was a great organization, but it had one major problem: a lack of institutional memory. By investing in the training of new members, Jekel envisions a seamless transition for IPLA when he and other third-year members graduate.
During the fall semester, IPLA held four events. For its first-annual IPLA Fall Mixer, nearly 20 judges and partners from around San Diego County met with 50 USD students to talk about their experiences working in IP without a technical degree. In the spring, Jekel turned his board and committee members into small teams, each of which was responsible for planning and executing an industry-specific roundtable lunch. The popular series featured talks from several high-profile attorneys on topics like Fashion Transactions, Pharmaceutical Patents, and Telecommunications Policy.
"We had some great events," Jekel acknowledged. "But I'm excited for next year. Now that we fixed the institutional memory problem, future leaders can focus their attention on taking IPLA to the next level." Although he stopped short of making promises, Jekel speculated that in addition to increasing the number of on-campus events, next year's board would take IPLA into writing and moot court competitions around the country.
Student apathy can be frustrating to leaders of an organization, Jekel notes. "I've been to events where 80 students have registered and only 30 showed up." To fix that problem, IPLA planned smaller, focused events in intimate settings like the faculty reading room. Registration was required, and if students did not cancel more than eight hours in advance, they were banned from IPLA events for the year. "It sounds harsh," Jekel said. "But these events are important for two reasons. They help students meet interesting attorneys, and they build our reputation in the IP community. I can't have partners from major law firms showing up to empty rooms."
In addition to his involvement with IPLA, Jekel is a member of several student organizations, including the San Diego Law Review, and he serves as an associate editor and journalist for Motions. He is also on the board of directors for a non-profit charity founded by his sister that provides Easter baskets to needy and abused children. "My sister is amazing," Jekel said. "In her first year, I think she gave out 3,000 baskets. This year, she did 25,000. She makes what I do look easy."
Jekel uses his spare time to write speculative fiction, and has a novel in the works that is near completion. To maintain sanity, Jekel and his wife do yoga four times a week. "It is the only time in my week where I can turn off the noise. It's impossible to worry about law school when I'm concentrating on a position."