USD School of Law Student Maryam Rastegar '15 (JD) Awarded Bergstrom Child Welfare Law Fellowship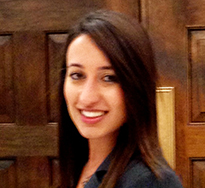 Ann Arbor, Mich. (April 4, 2014) – University of San Diego (USD) School of Law second-year law student Maryam Rastegar, '15 (JD), has been awarded a 2014 Bergstrom Child Welfare Law Fellowship by the University of Michigan School of Law.
Rastegar was selected to receive the fellowship due to her commitment to the field of children's law, past experiences related to children and family, and performance indicative of likely future success in the field.
After a three-day training session at Michigan Law at the end of May, Rastegar will spend 10 weeks working for the Alliance for Children's Rights in Los Angeles. Working under the supervision of Jill Rowland in the education department of the organization, Rastegar's work will include client intakes, analyzing and assessing clients' needs and preparing legal materials.
"The education program at the Alliance focuses particularly on special education-related matters," said Rastegar. "A lot of the work I do will be focused on education advocacy."
Ever since her first year of law school, Rastegar has focused on gaining child advocacy experience.
"During my first year, I was really involved in Advocates for Children and Education, a student-run organization at USD School of Law," said Rastegar. She is president-elect and will spend her last year leading the organization.
During her second year of law school, Rastegar gained a wide range of education and work-related experience, taking Professor Robert Fellmeth's Child Right's and Remedies course and Public Interest Law and Practice course.
"Professor Fellmeth has also been a mentor to me, providing me with the tools I need to become a great legal advocate," she said.
USD's Tradition of Supporting Children's Rights
USD School of Law has built a strong, core academic program led by Price Professor of Public Interest Law Robert C. Fellmeth along with three full-time faculty members and numerous adjunct professors who bring years of experience practicing child advocacy at the highest levels.The school offers a JD degree with a concentration in children's rights, child advocacy clinical opportunities, and access to one of the leading children's rights centers in the nation.
The Children's Advocacy Institute (CAI) at USD School of Law is an academic, research, and advocacy law firm. CAI represents the interests and rights of children and youth in impact litigation, legislative and regulatory advocacy, research and public education projects, and public service programs.
About the Bergstrom Child Welfare Law Fellowship
The Bergstrom Child Welfare Law Summer Fellowship is committed to inspiring the best and brightest law students to pursue careers in child welfare law. Through the fellowship, students gain experience and insight into the field and provide much needed services to various child welfare offices specializing in representing children, parents, and social service agencies. After attending a three-day training session at the end of May at the University of Michigan School of Law, fellows spend at least 10 weeks at their placements.
In 1995, the W. K. Kellogg Foundation provided a start-up three-year grant, as a part of the foundation's Families for Kids Initiative, to establish the Summer Child Welfare Law Fellowship through the Child Advocacy Law Clinic at Michigan Law. The Summer Fellowship program training is now funded by a generous gift from the Bergstrom Foundation in honor of the late Henry A. Bergstrom, '35. With the Bergstrom funding, the summer fellowship has gained a national scope.
About the Alliance for Children's Rights
The Alliance for Children's Rights protects the rights of impoverished, abused and neglected children and youth. By providing free legal services and advocacy, the Alliance ensures children have safe, stable homes, healthcare and the education they need to thrive.
About the University of San Diego School of Law
Celebrating 60 years of alumni success, the University of San Diego (USD) School of Law is recognized for the excellence of its faculty, depth of its curriculum, and strength of its clinical programs. Each year, USD educates approximately 900 Juris Doctor and graduate law students from throughout the United States and around the world. The law school is best known for its offerings in the areas of business and corporate law, constitutional law, intellectual property, international and comparative law, public interest and taxation.
USD School of Law is one of the 81 law schools elected to the Order of the Coif, a national honor society for law school graduates. The law school's faculty is a strong group of outstanding scholars and teachers with national and international reputations and currently ranks 23rd worldwide in all-time faculty downloads on the Social Sciences Research Network (SSRN). The school is accredited by the American Bar Association and is a member of the Association of American Law Schools. Founded in 1954, the law school is part of the University of San Diego, a private, nonprofit, independent, Roman Catholic university chartered in 1949.