Ross Bautista's Life as a Motocross Racer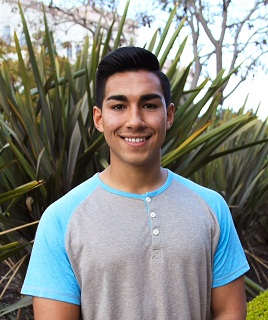 San Diego (April 7, 2014) – Growing up in Peoria, Arizona, Ross Bautista, '16 (JD), was always attracted to extreme sports. A self-described "adrenalin junkie," who as a kid built jumps for his bike in the desert and who liked doing backflips into the family pool, Bautista took up the sport of motocross in fifth grade. Motocross is a dangerous, physically demanding sport held on rugged outdoor tracks; athletes race their motorcycles over huge jumps and bumpy courses, hitting mounds of dirt at 60 miles per hour: "It's not if you get hurt, but when."
During the years he raced motocross competitively, Bautista's schedule was a grueling one. He'd run and do a cardio workout early and then complete his schoolwork, which he did on-line during the racing season. Later in the day he and his dad would get the bikes ready and load the trailer, then be off to the track to race until midnight. "In the Phoenix area, it was so hot that we had to race at night."
Physical conditioning was essential. Bautista ran, boxed and wrestled to build up endurance. "Your core especially has to be strong to handle a powerful 200 pound motorcycle while navigating a rugged course at high speeds." Injuries were also an inevitable part of the racing life. Over his racing career, Bautista broke his collarbone (twice), his humerus, his pelvis, and his facial bones; and he suffered eight concussions. "My mom couldn't bear to watch my races, but she took care of me after each injury." Bautista would attend regular school until he was out of the cast and back racing.
At 17, Bautista was finally forced to retire from motocross because of a severe brain injury, just before making it to the amateur nationals. But he hadn't lost any of his drive, and he went on to get his real estate license when he turned 18. "I'd be at work ahead of anyone else, making 100 cold calls before the office opened." With the money he earned from real estate, Bautista was able to finance college, graduating from Arizona State University in three years.
About four years ago, Bautista also founded his own business, Time4Greatness, LLC. While racing, he and his dad had learned quite a bit about getting endorsements and sponsors, and Bautista had become interested in the business aspects of sport. Now he helps clients implement their dreams by using social media and other forms of advertising.
Bautista is enjoying his first year of law school, and he hopes to pursue a career in sports law, brokering deals and advising clients. Professor David McGowan's contracts class is a favorite because of its relevance to his career objectives. Not surprisingly, when Bautista has any time to spare, he relaxes by engaging in another high-energy sport, surfing.