USD Professor Jack Minan Comments in Time Magazine Article Reporting on Lawsuit Filed Against MLB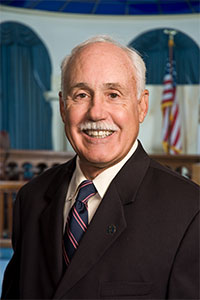 New York (March 11, 2014) – University of San Diego (USD) Professor of Law John "Jack" Minan commented in a Time magazine article reporting on a class action lawsuit filed against Major League Baseball (MLB) that claims the sport's wage structure violates federal and state laws.
The law suit states that MLB is expected to make $9 billion in 2014 but that all minor-league players are subject to a uniform contract and that first-year players make a mere $1,100 a month for more than 40 hours of work a week during the season.
"It seems to me the defendants are incentivized to settle at some point," Minan says. "The minor-league players make some pretty strong arguments. It does seem like there is a fair amount of profit, if you will, in Major League Baseball. I would think that at the end of the day this is the kind of case that ought to be settled."
Read the entire article on Time.com.
About Professor Minan
John "Jack" Minan is a professor of law at the University of San Diego School of Law, where he teaches and writes in the areas of property, water law, land-use planning, and state and local government. Minan's books include The Little White Book of Baseball Law (with Cole) (American Bar Association, 2009); The Little Green Book of Golf Law, First Edition (American Bar Association, 2007); and Law of Personal Property Leasing (with Lawrence) (Warren, Gorham and Lamont eds.) (Thompson West, 1993).
About the University of San Diego School of Law
Recognized for the excellence of its faculty, curriculum and clinical programs, the University of San Diego (USD) School of Law enrolls approximately 900 Juris Doctor and graduate law students from throughout the United States and around the world. The law school is best known for its offerings in the areas of business and corporate law, constitutional law, intellectual property, international and comparative law, public interest law, and taxation.
USD School of Law is one of the 81 law schools elected to the Order of the Coif, a national honor society for law school graduates. The law school's faculty is a strong group of outstanding scholars and teachers with national and international reputations and currently ranks 23rd worldwide in all-time faculty downloads on the Social Sciences Research Network (SSRN). The school is accredited by the American Bar Association and is a member of the Association of American Law Schools. Founded in 1954, the law school is part of the University of San Diego, a private, nonprofit, independent, Roman Catholic university chartered in 1949.