Erin Grisby's Focus on Environmental & Energy Law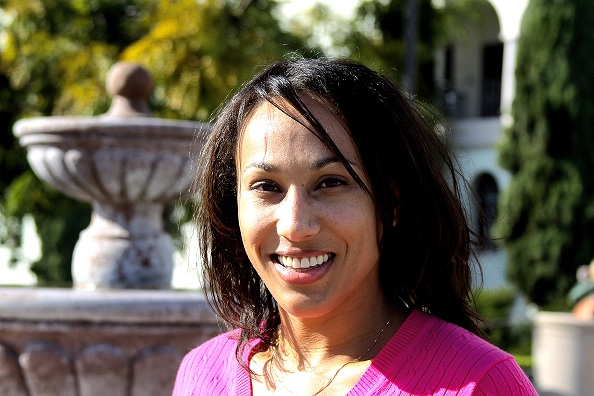 San Diego (March 17, 2014) – Erin Grisby, '14 (JD), returned to law school with a focus on environmental and energy law after a yearlong leave of absence. She had worked for six years in real estate after graduating from UC Santa Barbara, always wanting to go to law school. Still, once here, she found herself uncomfortable with the largely theoretical classes and with the physical and financial stress of law school.
During her leave of absence, Grisby reevaluated her reasons for going to law school and realized that her true interest was in natural resources. She returned to law school with a new sense of purpose. She directed her studies to environmental and energy law and took advantage of opportunities to gain practical experience. Grisby enrolled in public interest law and practice, a course that requires students to attend state agency board meetings. She monitored two state agencies: the CA Public Utilities Commission and the Board for Professional Engineers, Land Surveyors and Geologists. "I was able to witness the administrative process first hand, rather than just reading about it in an administrative law book."
Next, Grisby worked for credit through an agency internship with San Diego Coastkeeper, attending public hearings on the construction of a new landfill on the organization's behalf. She then spent seven months in Washington, D.C. working in federal government offices. With the help of USD's Public Interest Law Foundation, Grisby was able to attend a career fair on the East Coast where she landed a summer internship at the U.S. Environmental Protection Agency.
"At EPA headquarters, I saw just how much deliberation goes into forming the nation's environmental policy. A case study I wrote for the EPA's website is still under consideration by the agency."
Grisby jumped at the chance to extend her stay in D.C. through the law school's Washington, D.C. Externship Program, securing an externship at the Department of Justice's Environmental Enforcement Section at yet another career fair, this time at UCLA. The interview was nearly a disaster. When Grisby used Google Maps to get directions to UCLA, she ended up at a cemetery on the wrong side of town. The website had a faulty address, but luckily the career fair administrator was aware of the glitch and helped Grisby catch the interviewer as she was literally walking out the door; they persuaded the interviewer to conduct an after-hours interview. Once at the DOJ, Grisby wrote an extensive 17 page memo that analyzed emerging legal issues in two different circuits.
Grisby hopes to practice environmental and energy law in California or D.C. In the meantime, she keeps fit with recreational swimming and yoga. She balances academics by staying involved in the student body; she has served as treasurer of both the Black Law Students Association and the Real Estate and Land Use Society.
"It's funny how things work out. Had I not taken a yearlong leave of absence, I would not have been able to spend a semester in DC because the program wasn't offered until after I came back from my leave. I don't necessarily encourage students to take leaves like I did, but I do encourage them to find their own purpose in law school. The legal profession can serve just about any interest out there."
About the University of San Diego School of Law
Recognized for the excellence of its faculty, curriculum and clinical programs, the University of San Diego (USD) School of Law enrolls approximately 900 Juris Doctor and graduate law students from throughout the United States and around the world. The law school is best known for its offerings in the areas of business and corporate law, constitutional law, intellectual property, international and comparative law, public interest law, and taxation.
USD School of Law is one of the 81 law schools elected to the Order of the Coif, a national honor society for law school graduates. The law school's faculty is a strong group of outstanding scholars and teachers with national and international reputations and currently ranks 23rd worldwide in all-time faculty downloads on the Social Sciences Research Network (SSRN). The school is accredited by the American Bar Association and is a member of the Association of American Law Schools. Founded in 1954, the law school is part of the University of San Diego, a private, nonprofit, independent, Roman Catholic university chartered in 1949.