KPBS Recognizes USD Law Alumna Vickie Turner '82 (JD) as Local Hero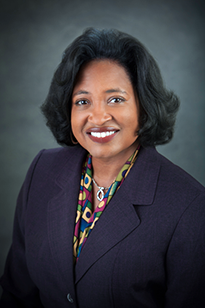 San Diego (March 3, 2014) – KPBS, San Diego's public broadcaster, today recognized University of San Diego (USD) School of Law alumna and adjunct professor Vickie Turner, '82 (JD), as a 2014 Women's History Month Local Hero honoree for her work mentoring women and youth.
Turner is partner at Wilson, Turner and Kosmo, the largest female-owned law firm in San Diego. The support she has received throughout her career inspired her to volunteer her time by mentoring, serving on boards, and setting up a family foundation. Among the organizations that she's been involved with are the Earl B. Gilliam Association, the San Diego Chapter of Links, Inc., the Lawyers Club of San Diego, Fund for Justice, Pathways 2 College, and the San Diego Volunteer Lawyer Program.
"There's no doubt in my mind why I do it," she says. "It's because every step of the way, whether it's been a male or a female, somebody has helped me. I acknowledge that freely, and feel it's important to be out there helping someone and giving back. I love working with students, and have an interest in youth-related and women's causes. Those are my two passions."
In 2012, Turner and her family created the Turner Dream Foundation to support leadership and educational enrichment programs for African American students. The foundation is a family affair that includes her husband, George, and their three sons: Marcus, Matthew and Maurice.
"There are many opportunities that I want people to have access to," said Turner. "And if you're not helping create those opportunities for them, then you really can't complain when they don't have them. For me, it's all part of my vision. I look at my kids and I see all the possibilities and I'm always telling them, 'Dream with your eyes open. Get out there and understand where you want to go.' If you dream with your eyes closed you can't see how to get where you're going."
Read the entire article on KBPS.com.
About the University of San Diego School of Law
Recognized for the excellence of its faculty, curriculum and clinical programs, the University of San Diego (USD) School of Law enrolls approximately 900 Juris Doctor and graduate law students from throughout the United States and around the world. The law school is best known for its offerings in the areas of business and corporate law, constitutional law, intellectual property, international and comparative law, public interest law, and taxation.
USD School of Law is one of the 81 law schools elected to the Order of the Coif, a national honor society for law school graduates. The law school's faculty is a strong group of outstanding scholars and teachers with national and international reputations and currently ranks 23rd worldwide in all-time faculty downloads on the Social Sciences Research Network (SSRN). The school is accredited by the American Bar Association and is a member of the Association of American Law Schools. Founded in 1954, the law school is part of the University of San Diego, a private, nonprofit, independent, Roman Catholic university chartered in 1949.