USD Law Professor Dov Fox Comments in Boston Globe Article Reporting on New Prenatal Genetic Testing Research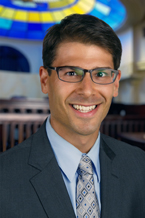 Boston (February 26, 2014) – University of San Diego (USD) School of Law Assistant Professor of Law Dov Fox commented in a Boston Globe article that reported on a new study showing how a blood test is superior to standard screening methods for detecting chromosomal abnormalities in a fetus.
The research compares the new genetic tests with standard screening methods in a large sample of low-risk pregnant women, and it found the blood tests were more accurate and produced far fewer false positive readings.
That means fewer women who get tested would have to confirm their result with invasive tests such as amniocentesis, which carry a small risk of miscarriage. It could also lead to more women being screened with the new technology and more abnormal fetuses being identified at an early stage of pregnancy.
"This technology is certainly only in its infancy as the range of testable conditions expands, physical conditions, cognitive conditions, even behavioral ones," says Fox "That will only further complicate how parents decide what counts as healthy or acceptable in the children that they have."
Read the full article on Bostonglobe.com.
About Professor Fox
Dov Fox is an assistant professor of law at the University of San Diego School of Law, where he teaches and writes in the areas of health law, criminal procedure, behavioral economics, intellectual property, and the regulation of biotechnology. His current research focuses on cognitive neuroscience and forensic evidence.
About the University of San Diego School of Law
Recognized for the excellence of its faculty, curriculum and clinical programs, the University of San Diego (USD) School of Law enrolls approximately 900 Juris Doctor and graduate law students from throughout the United States and around the world. The law school is best known for its offerings in the areas of business and corporate law, constitutional law, intellectual property, international and comparative law, public interest law, and taxation.
USD School of Law is one of the 81 law schools elected to the Order of the Coif, a national honor society for law school graduates. The law school's faculty is a strong group of outstanding scholars and teachers with national and international reputations and currently ranks 23rd worldwide in all-time faculty downloads on the Social Sciences Research Network (SSRN). The school is accredited by the American Bar Association and is a member of the Association of American Law Schools. Founded in 1954, the law school is part of the University of San Diego, a private, nonprofit, independent, Roman Catholic university chartered in 1949.