USD Law Alumnus and Rookie Sports Agent Cameron Weiss '12 (JD) Representing Michael Sam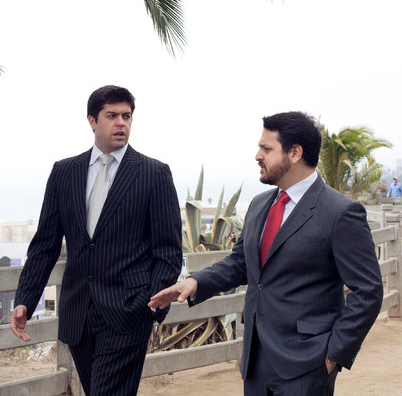 Santa Monica, Calif. (February 25, 2014) – University of San Diego (USD) School of Law alumnus and rookie sports agent Cameron Weiss, '12 (JD), was featured with his business partner Joe Barkett in a New York Times article about their fledgling sports agency, Empire Athletes. The company represents Michael Sam, the defensive lineman from the University of Missouri who recently spoke publicly about his sexual orientation and could become the first openly gay player in the National Football League (NFL).
Less than a year old, Empire Athletes is a small company. There is no secretary, no staff beyond a couple of college interns, and until last week, their office was the apartment they share about 20 blocks from the Pacific Ocean. Their only client on an NFL roster last season was Xavier Proctor, a defensive lineman on the Detroit Lions' practice squad.
For much of the past week, the entire operation—Barkett and Weiss, along with the publicist they are collaborating with, Howard Bragman—were at the NFL combine in Indianapolis, where Sam, an all-American defensive end last season at Missouri, participated, along with several hundred other prospects. Sam met with members of the news media on Saturday, worked out for scouts on Monday and, in between, interviewed with teams who are interested in drafting him.
The agents have not just been popular with football people. They have been interviewed on CNN and MSNBC. They have taken calls from clothing manufacturers, soft drink companies, wireless firms and talk shows wanting a piece of their most prominent client. And they have watched in wonder as "our guy" got a shout-out from President Obama.
When Weiss came across an article suggesting that Jay Z—who feuded with the prominent baseball agent Scott Boras after poaching one of his clients, the former Yankee Robinson Cano—should steal away Sam, all he could do was smile.
"A lot of people would be insulted," Weiss said, adding, "But any day that your name is mentioned in the same line as Jay Z, it's a pretty good day for you."
Read the full article on nytimes.com.
About the University of San Diego School of Law
Recognized for the excellence of its faculty, curriculum and clinical programs, the University of San Diego (USD) School of Law enrolls approximately 900 Juris Doctor and graduate law students from throughout the United States and around the world. The law school is best known for its offerings in the areas of business and corporate law, constitutional law, intellectual property, international and comparative law, public interest law, and taxation.
USD School of Law is one of the 81 law schools elected to the Order of the Coif, a national honor society for law school graduates. The law school's faculty is a strong group of outstanding scholars and teachers with national and international reputations and currently ranks 23rd worldwide in all-time faculty downloads on the Social Sciences Research Network (SSRN). The school is accredited by the American Bar Association and is a member of the Association of American Law Schools. Founded in 1954, the law school is part of the University of San Diego, a private, nonprofit, independent, Roman Catholic university chartered in 1949.