USD Law Prof Dov Fox Authors Huffington Post Article on Direct-to-Consumer DNA Testing Controversy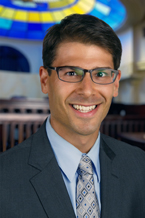 San Diego (February 22, 2014) – Today the HuffingtonPost.com published an op-ed article by University of San Diego (USD) School of Law Assistant Professor of Law Dov Fox titled, "Genetic Testing Needs a Nudge."
The article discusses the recent controversy between the Food and Drug Administration (FDA) and genetic testing start-up 23andMe. Before this winter, 23andMe provided consumers with information about their genetic health risks based on "DNA spit kits" they completed at home and sent back in the mail. The results were reported to show customers how susceptible they are to more than 240 diseases.
In November 2013, the FDA issued a letter forbidding sales of the test to diagnose health conditions unless there is evidence that it works for that purpose. Shortly after 23andMe announced that it had suspended all sales of its health-related genetic tests to comply with the FDA directive, consumers brought a class action lawsuit against the company, alleging that it "falsely and misleadingly advertises" the genetic test "as providing 'health reports on 240+ conditions'" in the absence of "analytical or clinical validation."
On one side of the controversy are those who argue that people should be trusted to make responsible use of their own genetic information. On the other side are those who argue that the FDA ban did no more than "requir[e] that companies that want to sell their health-related medical devices to the public demonstrate...that the tests do what the company claims they do."
According to Fox, each position—nonintervention and prohibition—has much to commend it, but neither captures the diverse outcomes of genetic testing. He states that access to such information can generate education or ignorance, persuasion or coercion, health or illness.
"Behavioral economics offers a range of mechanisms to break this impasse," says Fox in the article. He cites the best-selling Nudge, a book by economist Richard Thaler and legal scholar Cass Sunstein in which the authors famously argued that institutions can design decisionmaking contexts in ways that help people make better choices without losing their freedom to choose.
Using this method, Fox suggests ways to "nudge" the direct-to-consumer genetic testing industry.
Read the full article at HuffingtonPost.com.
About Professor Fox
Dov Fox is an assistant professor of law at the University of San Diego School of Law, where he teaches and writes in the areas of health law, criminal procedure, behavioral economics, intellectual property, and the regulation of biotechnology. His current research focuses on cognitive neuroscience and forensic evidence.
About the University of San Diego School of Law
Recognized for the excellence of its faculty, curriculum and clinical programs, the University of San Diego (USD) School of Law enrolls approximately 900 Juris Doctor and graduate law students from throughout the United States and around the world. The law school is best known for its offerings in the areas of business and corporate law, constitutional law, intellectual property, international and comparative law, public interest law, and taxation.
USD School of Law is one of the 81 law schools elected to the Order of the Coif, a national honor society for law school graduates. The law school's faculty is a strong group of outstanding scholars and teachers with national and international reputations and currently ranks 23rd worldwide in all-time faculty downloads on the Social Sciences Research Network (SSRN). The school is accredited by the American Bar Association and is a member of the Association of American Law Schools. Founded in 1954, the law school is part of the University of San Diego, a private, nonprofit, independent, Roman Catholic university chartered in 1949.