CPIL Senior Counsel Urges Lawmakers to 'Do More' on Assisted Living Concerns in Union-Tribune Article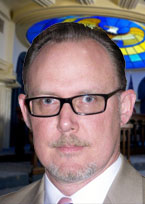 Sacramento (February 12, 2014) – Senior Counsel Edward Howard of the University of San Diego (USD) School of Law's Center for Public Interest Law (CPIL) was quoted in a San Diego Union-Tribune article, "Lawmakers hear assisted-living concerns." The article reported on a recent legislative hearing investigating the potential failure of state regulators to protect the residents of assisted living homes from abuse, neglect and death.
The hearings were called in Sacramento after a series of news reports by the Center for Investigative Reporting, San Diego Union-Tribune, Frontline, and ProPublica. Investigative reporting by the Union-Tribune uncovered 27 deaths in San Diego County assisted living homes in recent years that were a direct result of neglect and abuse.
Other news reports exposed bribery allegations against state inspectors that were never prosecuted and criminal acts that were never reported to police. The news organizations published or broadcast lengthy investigations into abuse and neglect inside board-and-care homes, hospitals and skilled nursing centers last year.
The publicity prompted the chairmen of the Senate and Assembly Human Services committees to convene a joint hearing to get answers from state bureaucrats who license and regulate about 7,500 assisted living homes.
"Don't let this hearing be your last one," Howard said. "Keep those agencies on a relatively short leash. ... The news cycle is going to move on to another scandal."
Howard urged legislators to do more than pass laws. He said senators should summon department heads to the capitol every month for an in-person update.
About the Center for Public Interest Law
Founded in 1980, the University of San Diego School of Law's Center for Public Interest Law (CPIL) serves as an academic center of research and advocacy in regulatory and public interest law. CPIL focuses its efforts on the study of an extremely powerful, yet often overlooked, level of government: state regulatory agencies. Under the supervision of experienced public interest attorneys and advocates, CPIL law student interns study California agencies that regulate business, professions, and trades.
About the University of San Diego School of Law
Recognized for the excellence of its faculty, curriculum and clinical programs, the University of San Diego (USD) School of Law enrolls approximately 900 Juris Doctor and graduate law students from throughout the United States and around the world. The law school is best known for its offerings in the areas of business and corporate law, constitutional law, intellectual property, international and comparative law, public interest law, and taxation.
USD School of Law is one of the 81 law schools elected to the Order of the Coif, a national honor society for law school graduates. The law school's faculty is a strong group of outstanding scholars and teachers with national and international reputations and currently ranks 23rd worldwide in all-time faculty downloads on the Social Sciences Research Network (SSRN). The school is accredited by the American Bar Association and is a member of the Association of American Law Schools. Founded in 1954, the law school is part of the University of San Diego, a private, nonprofit, independent, Roman Catholic university chartered in 1949.