USD Law Professor Robert Fellmeth Writes Union Tribune Article "Lobbying, Campaign System Lethal to Democracy"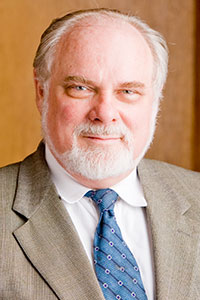 San Diego (April 14, 2014) – Sunday, the San Diego Union Tribune published an op-ed article written by University of San Diego (USD) School of Law Professor Robert Fellmeth titled, "Lobbying, campaign system lethal to democracy." Fellmeth is the Price Professor of Public Interest Law and the executive director of the Children's Advocacy Institute at USD.
Using the recently over-publicized illicit activities of three California legislators to make a point, Fellmeth identifies greater issues facing democracy other than the corrupt activities of three politicians. He states one problem is how weak and passive the state legislature has become.
Proposition 140 caps money for legislative spending on staff who are expected to conduct independent inquiry of proposed statutes, forcing legislators to rely more on paid lobbyists who represent groups of profit-stake interests. These "sponsors" of bills are no longer legislators, but rather private groups actually writing our laws.
Fellmeth argues that term limits, while not without merit, have lead to excessive turnover, making increasingly expensive elections more important. A shorter tenure means that private sector jobs must be sought sooner by agency officials and legislators, consequently they move into paid lobbying. Fellmeth concludes California laws are being enacted substantially by a mediator between powerful "stakeholders."
Read the full article on utsandiego.com.
About Robert Fellmeth
Robert Fellmeth is the Price Professor of Public Interest Law at the University of San Diego School of Law, where he teaches and writes in the areas of children's rights, regulation, antitrust, and consumer law. Professor Fellmeth is also the executive director of both USD's Center for Public Interest Law and Children's Advocacy Institute.
About the University of San Diego School of Law
Celebrating 60 years of alumni success, the University of San Diego (USD) School of Law is recognized for the excellence of its faculty, depth of its curriculum, and strength of its clinical programs. Each year, USD educates approximately 900 Juris Doctor and graduate law students from throughout the United States and around the world. The law school is best known for its offerings in the areas of business and corporate law, constitutional law, intellectual property, international and comparative law, public interest and taxation.
USD School of Law is one of the 81 law schools elected to the Order of the Coif, a national honor society for law school graduates. The law school's faculty is a strong group of outstanding scholars and teachers with national and international reputations and currently ranks 23rd worldwide in all-time faculty downloads on the Social Sciences Research Network (SSRN). The school is accredited by the American Bar Association and is a member of the Association of American Law Schools. Founded in 1954, the law school is part of the University of San Diego, a private, nonprofit, independent, Roman Catholic university chartered in 1949.