Gwendolyn Holdgreiwe's Foreign Service Institute Internship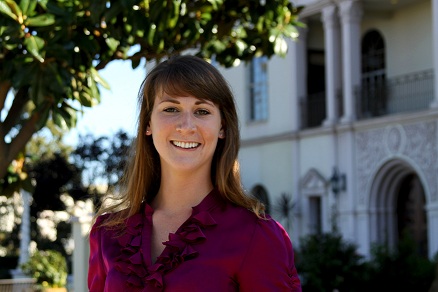 San Diego (January 28, 2014) – Gwen Holdgreiwe, '15 (JD), spent her 2L fall semester in Washington, D.C. interning at the U.S. Department of State Foreign Services Institute, where she helped train U.S. Foreign Service officers.
Language instruction is, of course, a major component of foreign service officer training, but Holdgreiwe taught in the lesser-known division responsible for economic and commercial studies. An undergraduate degree in economics from University of Mary Washington equipped Holdgreiwe to take on this role.
Holdgreiwe explained that each embassy has at least one economic officer with this specialized training, enabling the officer to analyze trade and exchange rates within the country and to assess how local currency is appreciating or depreciating. Each embassy also has a political officer trained to analyze political issues and potential sources of turmoil within the country; frequently, the economic and political issues overlap.
One of Holdgreiwe's tasks was to assist newly admitted foreign service officers in an economic and political training course they were required to take. She served as a teaching assistant to the officers as they received their countries' economic data, which they had to analyze, graph, and present to the class.
Drawing on her legal training, Holdgreiwe was also responsible for presenting a lecture on the Foreign Corrupt Practices Act. To brief herself for this lecture, she met with private-sector D.C. attorneys working in the field to learn their views on how the government could better educate diplomats so they might in turn advise U.S. citizens setting up companies abroad on ways the act might affect their operations.
In addition to working 40 hours a week, Holdgreiwe also took two evening classes as part of USD School of Law's D.C. internship program. She spent most weekends working on her comment for the San Diego Law Review on the topic of genetically modified food. "D.C. was beautiful in the autumn, but I spent almost all my free time inside Georgetown's law library," she recalled.
Holdgreiwe plans to pursue a career in international trade law and export control. In furtherance of this goal, she spent the summer before her 2L year interning with Law and Development Associates in Accra, Ghana. Funded by a USD Law Price Family International Scholarship, Holdgreiwe studied and wrote proposals on a variety of issues, including health care reform and the timber trade industry in Ghana.
While she loved her experiences in D.C. and Ghana and deeply values the amazing networking opportunities they afforded her, Holdgreiwe missed San Diego and its unbeatable climate. "My ideal job would somehow let me work in D.C. but live here."