USD Law Professor Semitsu Interviewed on KPBS-FM, Discusses Court Ruling in Landmark Libel Case Involving Social Media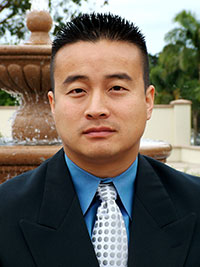 San Diego (January 24, 2014) – University of San Diego (USD) School of Law Professor Junichi Semitsu was interviewed in a KPBS-FM news story reporting on the first trial in a U.S. courtroom involving allegations of defamation on Twitter. A California jury decided that Courtney Love shouldn't be held liable for a tweet directed at her former attorney Rhonda Holmes.
"There is no Twitter exception for defamation," Semitsu said. "For people who tweet thinking 'I can say whatever I want,' this case should serve as a wake-up call."
Semitsu explains how the nature of Twitter might have helped Love fend off so-called "twibel" charges. Context matters in defamation law, and if reasonable minds conclude Love's tweet was never meant to be taken seriously, charges should be dismissed.
Listen to the report at KPBS.org.
About Professor Semitsu
Junichi Semitsu is a Professor-in-Residence at the University of San Diego School of Law, where he teaches and writes in the area of media law and mass communications, constitutional law, civil rights, privacy law, and criminal law and procedure.
About the University of San Diego School of Law
Recognized for the excellence of its faculty, curriculum and clinical programs, the University of San Diego (USD) School of Law enrolls approximately 900 Juris Doctor and graduate law students from throughout the United States and around the world. The law school is best known for its offerings in the areas of business and corporate law, constitutional law, intellectual property, international and comparative law, public interest law, and taxation.
USD School of Law is one of the 81 law schools elected to the Order of the Coif, a national honor society for law school graduates. The law school's faculty is a strong group of outstanding scholars and teachers with national and international reputations and currently ranks 23rd worldwide in all-time faculty downloads on the Social Sciences Research Network (SSRN). The school is accredited by the American Bar Association and is a member of the Association of American Law Schools. Founded in 1954, the law school is part of the University of San Diego, a private, nonprofit, independent, Roman Catholic university chartered in 1949.