USD Law Prof Claus and Alumna Jacqueline Isaac '09 (JD) Help Draft Egypt's New Constitution, Interviewed on FOX 5 News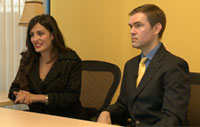 San Diego (January 14, 2014) – In her on-air report, "San Diegans Help Support Egypt's New Constitution," Kristy Wolski of FOX 5 San Diego interviewed University of San Diego (USD) School of Law Professor Laurence Claus and USD School of Law alumna Jacqueline Isaac, '09 (JD), both key contributors to Egypt's new national constitution.
Egypt's interim government designated 50 delegates from across the country to draft the new constitution. Those delegates reached out internationally to constitutional law scholars and practitioners to provide their expertise and guidance. Claus and Issac were among the constitutional law experts who convened in Jordan this past summer to help the delegates write a new, more inclusive, constitution for the Egyptian people.
Isaac is a human rights advocate and an estate-planning attorney with the Law Offices of Jacqueline Isaac in Southern California, while traveling for human rights initiatives throughout the year. Isaac earned her bachelors degree in political science and law degree to forward human rights and empowerment issues facing women in America and abroad.
"We've been able to work with a couple delegates in the constituent assembly to hear their needs, to hear their issues and to help them with research and some discussions on these exact points we're talking about now: minority rights, freedoms," said Isaac. "We're seeing this unprecedented new idea that every single Egyptian is equal under the eyes of the law."
Professor Claus teaches in the areas of constitutional law, comparative constitutional law, and contracts and writes about public law and legal theory. He served for three years at the U.S. Embassy in London for the Office of Foreign Litigation, U.S. Department of Justice.
"America got very lucky with the quality of its early leaders," said Claus. "South Africa got very lucky with Nelson Mandela, and a lot of the fate of this constitution is going to turn on who, in fact, the leaders turn out to be. The subsequent election processes matter a lot."
Watch the report on fox5sandiego.com.
About the University of San Diego School of Law
Recognized for the excellence of its faculty, curriculum and clinical programs, the University of San Diego (USD) School of Law enrolls approximately 900 Juris Doctor and graduate law students from throughout the United States and around the world. The law school is best known for its offerings in the areas of business and corporate law, constitutional law, intellectual property, international and comparative law, public interest law, and taxation.
USD School of Law is one of the 81 law schools elected to the Order of the Coif, a national honor society for law school graduates. The law school's faculty is a strong group of outstanding scholars and teachers with national and international reputations and currently ranks 23rd worldwide in all-time faculty downloads on the Social Sciences Research Network (SSRN). The school is accredited by the American Bar Association and is a member of the Association of American Law Schools. Founded in 1954, the law school is part of the University of San Diego, a private, nonprofit, independent, Roman Catholic university chartered in 1949.