USD Law Professor Robert Fellmeth Commented on Impending Decision to End Media Access to LA County Dependency Hearings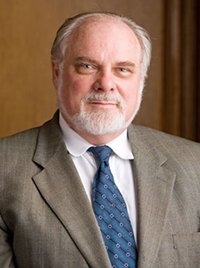 Los Angeles (December 13, 2013) – University of San Diego (USD) School of Law Price Professor of Public Interest Law and Children's Advocacy Institute Executive Director Robert Fellmeth was quoted in a Los Angeles Times article reporting on this week's California Appeals Court ruling that indicated the court is prepared to overturn a Los Angeles County Superior Court judge's decision to open juvenile dependency court hearings to the press.
In January, Judge Michael Nash, presiding judge of Los Angeles County Juvenile Court, issued a decree that dependency hearings, which had been presumptively closed, were now presumptively open to the press.
Advocates of greater transparency in the child welfare system have argued that allowing more access to dependency courts would improve the public's sense of how that system works when government workers remove children from their homes and place them in foster care. USD School of Law's Child Advocacy Institute filed an amicus brief asking the court to keep the hearings open.
"We fully agree that there are many instances where it's appropriate to have confidentiality and protect vulnerable children from exposure. Nash's order allowed that, liberally," said Fellmeth "What we oppose, is the draconian cloak of secrecy that conceals this profound exercise in state parenting."
If the appeals court makes a final decision to overturn Nash's order, Fellmeth said the Childrena's Advocacy Institute will lobby for a change in the law.
Read the full article on LATimes.com.
About Professor Fellmeth
Robert Fellmeth is the Price Professor of Public Interest Law at the University of San Diego School of Law, where he teaches and writes in the areas of children's rights, regulation, antitrust, and consumer law. Fellmeth is also the executive director of both USD's Center for Public Interest Law and Children's Advocacy Institute.
About the University of San Diego School of Law
Recognized for the excellence of its faculty, curriculum and clinical programs, the University of San Diego (USD) School of Law enrolls approximately 900 Juris Doctor and graduate law students from throughout the United States and around the world. The law school is best known for its offerings in the areas of business and corporate law, constitutional law, intellectual property, international and comparative law, public interest law, and taxation.
USD School of Law is one of the 81 law schools elected to the Order of the Coif, a national honor society for law school graduates. The law school's faculty is a strong group of outstanding scholars and teachers with national and international reputations and currently ranks 23rd worldwide in all-time faculty downloads on the Social Sciences Research Network (SSRN). The school is accredited by the American Bar Association and is a member of the Association of American Law Schools. Founded in 1954, the law school is part of the University of San Diego, a private, nonprofit, independent, Roman Catholic university chartered in 1949.