Careers in the Law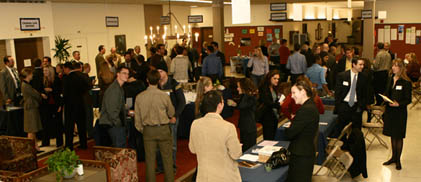 Attend the 32nd Annual Careers in the Law program—the law school's largest and most important alumni and student networking event. More than 20 practice areas, including nontraditional legal careers, are represented.
Whether you have advice to share or are in the job market yourself, this is a great opportunity for alumni to connect with each other and to meet current law students.
Hosted hors d'oeuvres, drinks and reserved parking for alumni.
Alumni Advisor Directory
USD School of Law alumni are invited to join more than 1,000 law alumni in the 2013-14 Alumni Advisor Directory. Participants in the Alumni Advisor Directory make themselves available for students/alumni to contact them regarding their career experiences, areas of practice and/or information about their geographic region. The directory is exclusively for law students and alumni and is online at the Career and Professional Development office's password-protected job search website, Symplicity.
Careers in the Law is a collaborative effort of the Law Alumni Board's Student Relations Committee, the Office of Alumni Relations and the Office of Career and Professional Development.