USD Law Prof Dov Fox Discusses Today's FDA Ruling on Direct-to-Consumer Genetic Testing on NPR's "Marketplace"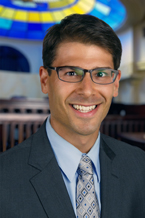 Los Angeles (November 25, 2013) – Dov Fox, Assistant Professor of Law at the University of San Diego (USD) School of Law, was interviewed today on American Public Media's "Marketplace" about the recent FDA ruling on a direct-to-consumer genetic testing kit produced and distributed by 23andMe.
23andMe provides consumers with information about their genetic health risks based on "DNA spit kits" they do at home and send back in the mail. The results are supposed to show customers how susceptible they are to more than 250 diseases. But the FDA now says the company hasn't proved the tests are accurate enough, and the agency is worried Americans are relying on the results instead of visiting their doctor.
"This field of personalized medicine is really in its infancy," said Fox, "and its terrifically exciting what we might learn one day, but its just not there yet." Fox explained that the FDA's determination that 23andMe's direct-to-consumer genetic testing hasn't shown that their reports about your health from your genes alone are all that useful. "They're just not accurate at this time in the way that the FDA has required."
On the flip side, posed O'Leary, critics say regulators are standing in the way of consumers having the convenience of obtaining information about their own health at a reasonable price point without an expensive trip to the doctor.
According to Fox, it's a powerful argument that is often made by genetic testing companies such as 23andMe. The problem is the public's understanding of genetics is very low. "These tests," he stated, "come not only with limited accuracy, but also without the benefit of genetic counseling."
Fox suggests imagining receiving results from a company such as 23andMe that you are negative for BRCA1 and BRCA2, two gene mutations that are linked to individuals developing certain forms of breast cancer. Armed with that sort of information, an individual might decide to avoid getting mammograms. "That decision could be fatal, " warned Fox.
Fox reports that testing negative for those particular mutations, BRCA 1 and BRCA2, lowers a person's risk for developing breast cancer from about 12.5 percent to 12.4 percent. It's clearly a mistake to avoid mammograms, and the information you receive back from companies like 23andMe don't tell you any of this."
O'Leary asked Fox how important the role of federal regulators is in determining the size of the genetic testing marketplace a decade from now.
"The ways in which the FDA has asserted today its interest in regulating these techniques will have implications not just for genetic testing of individuals," said Fox "but I think for prospective children as well."
Listen to the full interview on NPR.com.
About Professor Fox
Dov Fox is an assistant professor of law at the University of San Diego School of Law, where he teaches and writes in the areas of health law, criminal procedure, behavioral economics, intellectual property, and the regulation of biotechnology. His current research focuses on cognitive neuroscience and forensic evidence.
About the University of San Diego School of Law
Recognized for the excellence of its faculty, curriculum and clinical programs, the University of San Diego (USD) School of Law enrolls approximately 900 Juris Doctor and graduate law students from throughout the United States and around the world. The law school is best known for its offerings in the areas of business and corporate law, constitutional law, intellectual property, international and comparative law, public interest law, and taxation.
USD School of Law is one of the 81 law schools elected to the Order of the Coif, a national honor society for law school graduates. The law school's faculty is a strong group of outstanding scholars and teachers with national and international reputations and currently ranks 23rd worldwide in all-time faculty downloads on the Social Sciences Research Network (SSRN). The school is accredited by the American Bar Association and is a member of the Association of American Law Schools. Founded in 1954, the law school is part of the University of San Diego, a private, nonprofit, independent, Roman Catholic university chartered in 1949.