USD Law Professor Orly Lobel Discusses Innovation and the Free Flow of Talent on KPBS Midday Edition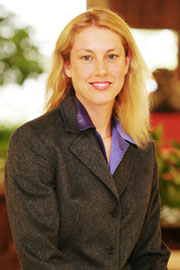 San Diego (November 21, 2013) – On Wednesday, November 20, University of San Diego (USD) School of Law Professor of Law Orly Lobel was interviewed by Maureen Cavanaugh on KPBS radio's "Midday Edition," to discuss her book, Talent Wants to be Free: Why We Should Learn to Love Leaks, Raids and Free-Riding.
In Talent Wants to Be Free, Lobel argues that in order for innovation to flourish, people must have the freedom to leave jobs, work for competitors, start their own companies, and take the skills and ideas they develop along the way with them. When policies and business strategies prevent the influx of new people and ideas by restricting the flow of talent and knowledge, it leads to stagnation, first at individual organizations and eventually in entire industries and regions.
Speaking with Cavanaugh, Lobel stated that the free flow of talent creates a very vibrant and fast-growing business environment. Lobel's research shows that California's strong stance against non-compete agreements created more start-ups, more entrepreneurship in regions like Silicon Valley and San Diego.
"I have seen a lot of irrationality happening when employers see their best employees leave," says Lobel. "When there is an ethos of talent flowing, of knowledge flowing, overtime in different companies that connect in the same industry, everybody wins."
Listen to the complete interview on KPBS.com.
About Professor Lobel
An internationally acclaimed expert in the law and economics of human capital, Orly Lobel is the Don Weckstein Professor of Law at the University of San Diego and founding faculty member of the Center for Intellectual Property and Markets. She teaches and writes in the areas of employment law, intellectual property law, regulatory and administrative law, torts, behavioral economics, health policy, consumer law and trade secrets. Her current research focuses on innovation policy and intellectual property. Lobel's latest book is Talent Wants to be Free: Why We Should Learn to Love Leaks, Raids, and Free-Riding.
About the University of San Diego School of Law
Recognized for the excellence of its faculty, curriculum and clinical programs, the University of San Diego (USD) School of Law enrolls approximately 900 Juris Doctor and graduate law students from throughout the United States and around the world. The law school is best known for its offerings in the areas of business and corporate law, constitutional law, intellectual property, international and comparative law, public interest law, and taxation.
USD School of Law is one of the 81 law schools elected to the Order of the Coif, a national honor society for law school graduates. The law school's faculty is a strong group of outstanding scholars and teachers with national and international reputations and currently ranks 23rd worldwide in all-time faculty downloads on the Social Sciences Research Network (SSRN). The school is accredited by the American Bar Association and is a member of the Association of American Law Schools. Founded in 1954, the law school is part of the University of San Diego, a private, nonprofit, independent, Roman Catholic university chartered in 1949.