USD Professor of Law Robert Fellmeth Quoted on Verdict of School Construction Proposition Law Suit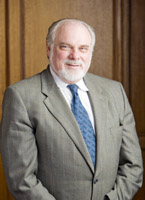 San Diego (November 15, 2013) – University of San Diego (USD) School of Law Price Professor of Public Interest Law Robert Fellmeth was quoted in a Voice of San Diego article that examines ramifications of a recent verdict of a multimillion-dollar lawsuit against the San Diego Unified School District for improperly using school bond money to construct stadium lights at a Hoover High School in Talmage and for thumbing its nose at a requirement to properly assess the lights' impact on the neighborhood.
The verdict may impact more than just football stadiums. It potentially opens the district to future lawsuits, and could ultimately change the game for how the district pitches bond sales to the public.
In 2000, California passed Proposition 39, legislation that lowered the bar for a school district to win bond money, from a two-thirds majority to a 55 percent majority. In exchange, Prop. 39 required that school districts hoping to sell bonds must formally assess their needs and then provide a list of projects they'll fund based on that report.
At issue is whether or not school districts are proposing projects, winning approval from the voters, and then altering the plans without further input from neighbors and voters. Some voters are skeptical of the practice.
School board member Scott Barnett said he understands why people might be angry at the school board for what they perceive as a "bait-and-switch," but said the projects they're choosing to tackle make good fiscal sense and save money in the long run.
According to USD's Professor Fellmeth, the district has a certain degree of flexibility as to how it spends money to complete projects, but it doesn't have discretion as to what it spends money on.
For example, if the district planned to spend money on 1,500 air-conditioning units, but a new type of technology comes out that revolutionizes the way we condition air, judges wouldn't begrudge the district for changing the details.
On the other hand, Fellmeth said, "If you say you're going to build a classroom, then you spend the money on a watchtower, you've got problems. That's why stadium lights are so important."
Thus, even if the district wasn't required to include the level of detail it sent out on the ballot, once it's been voted on, it becomes part of the district's stated intent. In short, legal questions are framed by what the district said they were going to do, and judges will hold them to that.
"It's not a blank check," Fellmeth said. "You can't say, 'We've already got the money, we can spend it how we want to now. That's not how it works."
If the district needs to change plans to a significant degree, "then it's time to float a new bond," Fellmeth said.
It's likely the situations will repeat themselves if the school board and voters don't find a clear way to handle the disagreements.
Read the full article on VoiceOfSanDiego.com.
About Professor Fellmeth
Robert Fellmeth is the Price Professor of Public Interest Law at the University of San Diego School of Law, where he teaches and writes in the areas of children's rights, regulation, antitrust, and consumer law. Fellmeth is also the executive director of both USD's Center for Public Interest Law and Children's Advocacy Institute.
About the University of San Diego School of Law
Recognized for the excellence of its faculty, curriculum and clinical programs, the University of San Diego (USD) School of Law enrolls approximately 900 Juris Doctor and graduate law students from throughout the United States and around the world. The law school is best known for its offerings in the areas of business and corporate law, constitutional law, intellectual property, international and comparative law, public interest law, and taxation.
USD School of Law is one of the 81 law schools elected to the Order of the Coif, a national honor society for law school graduates. The law school's faculty is a strong group of outstanding scholars and teachers with national and international reputations and currently ranks 23rd worldwide in all-time faculty downloads on the Social Sciences Research Network (SSRN). The school is accredited by the American Bar Association and is a member of the Association of American Law Schools. Founded in 1954, the law school is part of the University of San Diego, a private, nonprofit, independent, Roman Catholic university chartered in 1949.