USD's Administrative Hearing Program Sets Law Student Maureen MacManus on a Path to Success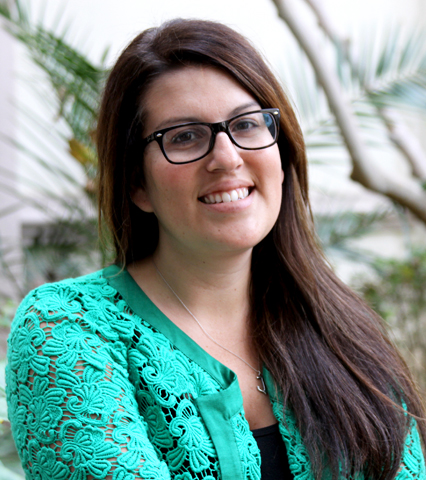 San Diego (November 18, 2013) - Maureen MacManus, '14 (JD), credits her work in USD's Administrative Hearing Program with teaching her key lawyering skills as she learned to write succinctly, interview efficiently, and manage her cases with speed and accuracy.
The program trains law students as administrative hearing officers who rule on cases in which citizens contest parking tickets issued by the City of San Diego. MacManus started with the program the summer after her 1L year, continuing through her second year. She began by presiding over appeals submitted as written declarations; once she established the facts, she wrote decisions based on how the law applied to them. MacManus then progressed to more complex cases in which citizens opted to make personal appearances, sometimes supplementing their declarations with photos and witnesses.
"It was a real blast when I started working face-to-face with people," MacManus recalled.
In those face-to-face encounters MacManus developed her interviewing skills. She had to learn techniques to manage citizens and rein them in, focusing them on legally relevant matters; she also had to remain reasonably skeptical and consider every detail since witness testimony doesn't always paint a full picture. In one case, MacManus remembers, it took her supervisor to point out to her that a reflection on a car's chrome bumper visible in a photograph demonstrated that the appellant hadn't met his burden of proof.
Also as a consequence of her participation in the program, MacManus' writing improved rapidly. In a typical three-hour shift, she would deal with an average of eight files, reviewing the law, reading the declarations, hearing any testimony and then writing her decision. When she started, her decisions ran a page and a half; soon, she learned through strategic editing to complete her analysis in half a page. She also developed the valuable habit of checking and re-checking her work for accuracy.
Another benefit of the program is that students are supervised by program director Agustin Lopez, '01(JD), who gives close personal attention to the fledgling hearing officers. MacManus remembers that she was tentative when she started but soon gained confidence under Lopez' supervision and regular feedback. MacManus is sure the skills she developed in the program helped her succeed in her summer clerkship, leading to a post-bar job offer.
In addition to her experience with the Administrative Hearing Program, MacManus has worked in law school as an Academic Success Fellow and as a teaching assistant for Advanced Legal Writing; she is also a member of the International Law Journal.
About the University of San Diego School of Law
Recognized for the excellence of its faculty, curriculum and clinical programs, the University of San Diego (USD) School of Law enrolls approximately 900 Juris Doctor and graduate law students from throughout the United States and around the world. The law school is best known for its offerings in the areas of business and corporate law, constitutional law, intellectual property, international and comparative law, public interest and taxation.
USD School of Law is one of the 81 law schools elected to the Order of the Coif, a national honor society for law school graduates. The law school's faculty is a strong group of outstanding scholars and teachers with national and international reputations and currently ranks 23rd worldwide in all-time faculty downloads on the Social Sciences Research Network (SSRN). The school is accredited by the American Bar Association and is a member of the Association of American Law Schools. Founded in 1954, the law school is part of the University of San Diego, a private, nonprofit, independent, Roman Catholic university chartered in 1949.