USD Law Prof Dov Fox Authors Huffington Post Feature on Seldom Discussed Distinct Holding of Roe v. Wade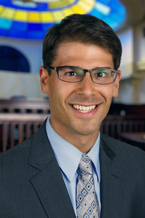 San Diego (November 10, 2013) – Today the Huffington Post published and featured an op-ed article by University of San Diego (USD) School of Law Assistant Professor of Law Dov Fox titled, "The Forgotten Holding of Roe v. Wade."
The article analyzes a seldom discussed holding associated with the landmark case Roe v. Wade, which extended the constitutional right of privacy to a woman's decision about whether to keep a pregnancy. Fox notes that political, judicial, and scholarly debates about Roe have fixated on the source, content, and legitimacy of that individual right to abortion. But what isn't discussed often is the effects of Roe's distinct holding—on the other side of the constitutional ledger—that the state's interest in "potential life" constitutes a valid reason to regulate reproductive conduct. The potential-life holding helps to resolve these and many other disputes over embryo contracts, fetal pain, and sex selection, Fox argues in a forthcoming article in the George Washington Law Review.
"That 'the State may [legitimately] assert' that interest, Roe held, 'as long as at least potential life is involved,' explains why the government may, as a constitutional matter, restrict stem cell research that destroys human embryos, for example, whether or not those frozen embryos might otherwise be brought to term," Fox explains. "That the fetus 'represents only the potentiality of life,' on the other hand, and accordingly lacks any interests of its own under the Constitution, explains why states may not, as many have tried, accord the legal status of personhood to human life beginning at conception."
The op-ed article examines a recent Wisconsin case, in which Alicia Beltran was arrested and detained for 78 days for substance abuse because she refused to take an anti-addiction drug that the clinic had recommended to treat a dependency to pain pills that (she admitted) she'd once struggled with, but didn't anymore, as tests confirmed.
Beltran is now seeking a federal injunction to block the enforcement of the 1998 Wisconsin law under which she was detained. That law, like those in several other states including Minnesota, Oklahoma, and South Dakota, authorizes the state to detain and forcibly treat any pregnant woman who "habitually" uses alcohol or controlled substances. Such restrictions are designed, these laws explain, to promote the state's constitutionally approved interest in "potential life."
Fox discusses how Roe's potential-life holding informs the constitutionality of law like Wisconsin. The Beltran case marks the first-ever federal challenge to fetal protection laws that punish women for using drugs during pregnancy.
Read the full article at HuffingtonPost.com.
About Professor Fox
Dov Fox is an assistant professor of law at the University of San Diego School of Law, where he teaches and writes in the areas of health law, criminal procedure, behavioral economics, intellectual property, and the regulation of biotechnology. His current research focuses on cognitive neuroscience and forensic evidence.
About the University of San Diego School of Law
Recognized for the excellence of its faculty, curriculum and clinical programs, the University of San Diego (USD) School of Law enrolls approximately 900 Juris Doctor and graduate law students from throughout the United States and around the world. The law school is best known for its offerings in the areas of business and corporate law, constitutional law, intellectual property, international and comparative law, public interest law, and taxation.
USD School of Law is one of the 81 law schools elected to the Order of the Coif, a national honor society for law school graduates. The law school's faculty is a strong group of outstanding scholars and teachers with national and international reputations and currently ranks 23rd worldwide in all-time faculty downloads on the Social Sciences Research Network (SSRN). The school is accredited by the American Bar Association and is a member of the Association of American Law Schools. Founded in 1954, the law school is part of the University of San Diego, a private, nonprofit, independent, Roman Catholic university chartered in 1949.