Veterans Initiative and Veterans Legal Clinic Recognized by the San Diego Board of Supervisors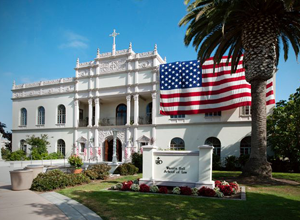 San Diego (October 31, 2013) – The San Diego Board of Supervisors will honor the University of San Diego (USD) School of Law's veterans education program with a proclamation on Tuesday, November 5 at 8:30 a.m. during the board meeting.
Accompanied by several program supervisors, Col. Patrick Uetz, USMC (ret.), director of USD's Initiative to Protect Student Veterans, will attend the meeting to accept the proclamation.
San Diego Board of Supervisors meetings are open to the public and anyone is welcome to attend. Tuesday's meeting begins at 9 a.m. in room 310 of the County Administration Center, located at 1600 Pacific Highway in downtown San Diego.
"Our Initiative to Protect Student Veterans program is comprised of our veterans clinic and our legislative and policy advocacy efforts," said Uetz. "Together we counter the effects of for-profit schools which often mislead and lure student veterans to ill-suited programs at great expense."
The Board of Supervisors will reference several of USD's veteran programs including the Initiative to Protect Student Veterans, Veterans Legal Clinic and VA Yellow Ribbon Program. The proclamation will recognize USD's overall positive efforts to support veterans.
"I applaud the Board's acknowledgment of the good work being done by the USD School of Law's Initiative to Protect Student Veterans," said Timothy L. O'Malley, PhD, vice president for University Relations at USD.
O'Malley congratulated all veterans initiative team members at the law school who accepted the challenge, originally inspired by Jerome Kohlberg's concerns, to help address the needs and guide the decisions of our deserving returning veterans as they resume their educations and their lives after service to our country.
"The recognition of our collective efforts at USD by the Board of Supervisors is both warranted and appreciated," said O'Malley.
Read more about veteran programs at USD School of Law.
About the Initiative to Support Student Veterans
The University of San Diego Initiative to Protect Student Veterans joins the efforts of military leaders and elected officials to educate and protect our military veterans from the misleading practices of some for-profit educational institutions and lenders. The Initiative's multi-pronged approach includes research, advocacy and the Veterans Legal Clinic. The Initiative is made possible by the financial support of a family foundation interested in veterans' education issues.
About the Veterans Legal Clinic
The University of San Diego Veterans Legal Clinic is one of 11 client-focused legal clinics at USD School of Law committed to training law students and providing free legal services to the community. Other clinics serve the needs of lower income individuals and families in San Diego in a variety of areas including federal appeals, civil litigation, education and disability, entrepreneurship, federal tax, immigration, landlord tenant, small claims, state income tax and state sales and use tax. The Veterans Clinic provides free legal services to veterans struggling to resolve disputes with for-profit education companies over the use of GI Bill funds and related loans.
About the University of San Diego School of Law
Recognized for the excellence of its faculty, curriculum and clinical programs, the University of San Diego (USD) School of Law enrolls approximately 900 Juris Doctor and graduate law students from throughout the United States and around the world. The law school is best known for its offerings in the areas of business and corporate law, constitutional law, intellectual property, international and comparative law, public interest law, and taxation.
USD School of Law is one of the 81 law schools elected to the Order of the Coif, a national honor society for law school graduates. The law school's faculty is a strong group of outstanding scholars and teachers with national and international reputations and currently ranks 23rd worldwide in all-time faculty downloads on the Social Sciences Research Network (SSRN). The school is accredited by the American Bar Association and is a member of the Association of American Law Schools. Founded in 1954, the law school is part of the University of San Diego, a private, nonprofit, independent, Roman Catholic university chartered in 1949.