USD Law Prof Fox's Comments Featured in Reuters Article on Controversial New Patent for Selecting Egg and Sperm Donors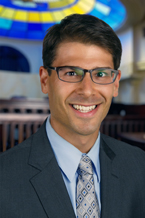 San Diego (October 9, 2013) – University of San Diego (USD) School of Law Assistant Professor of Law Dov Fox commented on a Reuters News Service article that analyzes a controversial new patent for technology that allows people to choose egg and sperm donors based on the traits they want in their prospective children.
On September 24, the USPTO granted a patent application from genetic testing company 23andMe for a method of picking egg and sperm donors based on genetic calculations for certain characteristics, such as eye color or athletic prowess. The company, based in Mountain View, Calif., sells personal genetic testing kits directly to consumers.
"Some people might say this is in some respects similar to dating websites to the extent you look for traits in somebody you want to have children with," said Professor Fox. But the important question, he said, is whether the accuracy from the genetic testing, albeit imperfect, makes 23andMe's service more troubling.
In response to criticism that the patented technology threatens to usher in a new era of designer babies, 23andMe said in a statement that it does not intend to apply the technology in the context of fertility treatment. The company said when it applied for the patent in 2008, it considered that the technology would have potential applications for fertility clinics and therefore included that language in the patent.
Since then, the company said, its strategic focus has changed and now it only intends to use the technology in its Family Traits Inheritance Calculator. That tool has been offered to couples since 2009 as a "fun way" to look at what eye color their future child might have or whether the child would be able to perceive bitter taste or suffer from lactose intolerance.
Fox states that most technologies that allow for genetic selection have focused on testing the embryo or the fetus. For example, pre-implantation genetic diagnosis has become a common service at fertility clinics, letting couples undergoing in vitro fertilization test multiple embryos for genetic disorders before deciding which one to implant. Concern about what happens to the unused embryos contributes to the moral considerations in those cases, said Fox.
But the tests offered by 23andMe and other companies that test sperm and eggs alone evade such concerns, Fox said, by posing the ethical question of offspring selection apart from objections about the moral status of the embryo of fetus. He said the 23andMe patent highlights the need to expand the USPTO's authority to consider ethical arguments, and to appoint an ethics officer.
Read the full article on councilofresponsiblegenetics.org.
About Professor Fox
Dov Fox is an assistant professor of law at the University of San Diego School of Law, where he teaches and writes in the areas of health law, criminal procedure, behavioral economics, intellectual property, and the regulation of biotechnology. His current research focuses on cognitive neuroscience and forensic evidence.
About the University of San Diego School of Law
Recognized for the excellence of its faculty, curriculum and clinical programs, the University of San Diego (USD) School of Law enrolls approximately 900 Juris Doctor and graduate law students from throughout the United States and around the world. The law school is best known for its offerings in the areas of business and corporate law, constitutional law, intellectual property, international and comparative law, public interest law, and taxation.
USD School of Law is one of the 81 law schools elected to the Order of the Coif, a national honor society for law school graduates. The law school's faculty is a strong group of outstanding scholars and teachers with national and international reputations and currently ranks 23rd worldwide in all-time faculty downloads on the Social Sciences Research Network (SSRN). The school is accredited by the American Bar Association and is a member of the Association of American Law Schools. Founded in 1954, the law school is part of the University of San Diego, a private, nonprofit, independent, Roman Catholic university chartered in 1949.