USD's Professor Fox Comments in Boston Globe Article on New Genetic Testing Technologies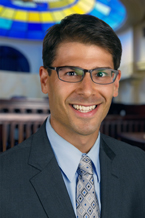 San Diego (October 14, 2013) – University of San Diego (USD) School of Law Assistant Professor of Law Dov Fox commented in a Boston Globe article about a new crop of companies developing DNA tests that reduce the odds of having an unhealthy child when using a sperm donor.
One company, named GenePeeks, will test a woman's DNA and the genes of potential donors to produce a personalized list that weeds out donors who may be a bad match for about 600 genetic childhood diseases. The test, costing about $2,000, will be offered starting in December to customers of a New York sperm bank.
GenePeeks claims it is starting with a conservative approach; it will simply expand on the kind of screening that is already done, looking more exhaustively for recessive genetic diseases. Company founders hope to eventually test the risk for more complex diseases, depending on the state of scientific understanding.
In the article, Fox said it is unclear whether genomic science will evolve to allow testing such as GenePeeks offers for common diseases caused by a blend of genetic and environmental risk factors. And he worries that one day such technology will extend beyond disease prevention to selection among healthy traits.
Read the full article on BostonGlobe.com.
About Professor Fox
Dov Fox is a professor of law at the University of San Diego School of Law, where he teaches and writes in the areas of health law, criminal procedure, behavioral economics, intellectual property, and the regulation of biotechnology. His current research focuses on cognitive neuroscience and forensic evidence.
About the University of San Diego School of Law
Recognized for the excellence of its faculty, curriculum and clinical programs, the University of San Diego (USD) School of Law enrolls approximately 900 Juris Doctor and graduate law students from throughout the United States and around the world. The law school is best known for its offerings in the areas of business and corporate law, constitutional law, intellectual property, international and comparative law, public interest law, and taxation.
USD School of Law is one of the 81 law schools elected to the Order of the Coif, a national honor society for law school graduates. The law school's faculty is a strong group of outstanding scholars and teachers with national and international reputations and currently ranks 23rd worldwide in all-time faculty downloads on the Social Sciences Research Network (SSRN). The school is accredited by the American Bar Association and is a member of the Association of American Law Schools. Founded in 1954, the law school is part of the University of San Diego, a private, nonprofit, independent, Roman Catholic university chartered in 1949