USD Law Professor Lisa Ramsey Weighs in on Trademarking Colors in a Washington Post Article About Cadbury's Royal Purple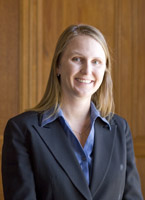 San Diego (October 4, 2013) – University of San Diego (USD) School of Law Professor Lisa Ramsey was quoted in a Washington Post article about Cadbury's recent efforts in Britain to trademark royal purple, a color synonymous with the century-old confectioner, now owned by American conglomerate Mondelēz International.
The English Court of Appeal ruled on Friday that Cadbury's petition to trademark royal purple was too vague and argued it could potentially be abused. Mondelēz International is weighing whether to appeal to Britain's supreme court.
"I think there's been some pushback because of concerns about competition," Ramsey said in the article. Especially with Cadbury's purple, she noted. "It's associated with the Queen. Why should only one company be able to invoke the history of the royal family? People are starting to look a little more at the public policy."
Read the full article at WashingtonPost.com.
About Professor Ramsey
Lisa Ramsey is a professor of law at the University of San Diego School of Law, where she teaches and writes in the areas of trademark law, intellectual property and international intellectual property. Her current scholarship and research focuses on the potential conflict between trademark and free speech rights in national and international laws.
About the University of San Diego School of Law
Recognized for the excellence of its faculty, curriculum and clinical programs, the University of San Diego (USD) School of Law enrolls approximately 900 Juris Doctor and graduate law students from throughout the United States and around the world. The law school is best known for its offerings in the areas of business and corporate law, constitutional law, intellectual property, international and comparative law, public interest law, and taxation.
USD School of Law is one of the 81 law schools elected to the Order of the Coif, a national honor society for law school graduates. The law school's faculty is a strong group of outstanding scholars and teachers with national and international reputations and currently ranks 23rd worldwide in all-time faculty downloads on the Social Sciences Research Network (SSRN). The school is accredited by the American Bar Association and is a member of the Association of American Law Schools. Founded in 1954, the law school is part of the University of San Diego, a private, nonprofit, independent, Roman Catholic university chartered in 1949.