USD Law Prof Dov Fox Authors Featured Huffington Post Article on Reproductive Biotechnology & Intellectual Property Law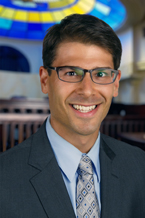 San Diego (October 4, 2013) – Today the HuffingtonPost.com published and featured on its home page an op-ed article by University of San Diego (USD) School of Law Assistant Professor of Law Dov Fox titled, "23andMe's Designer Baby Patent."
The article analyzes the "gamete donor selection" patent that the U.S. Patent and Trademark Office (PTO) awarded this week to the direct-to-consumer genetic testing company 23andMe.
"It's not just couples already planning to have a baby together who can use the patented technology to learn the likelihood that their child will inherit certain 'phenotypes of interest in the hypothetical offspring,'" Fox explains. "The patent also covers genetic selection from among a broader menu of options by predicting how a person's DNA would combine with any number of available [sperm or egg] donors to produce a child of a particular type."
Fox makes the case that the patent on donor selection technology may be troubling even if 23andMe never brings that technology to market.
"Patents do more," he explains, "than incentive innovators to disclose their inventions to the public. When the government confers a patent for a particular invention, it implicitly approves of that invention" as one "whose development should be protected and promoted."
Fox recommends by reference to the utility standard in patent law that Congress consider "appoint[ing] 'ethics representatives' to the PTO" to equip it "to enlarge the range of arguments that it draws upon to determine whether an invention serves social utility."
Read the full article at HuffingtonPost.com.
About Professor Fox
Dov Fox is an assistant professor of law at the University of San Diego School of Law, where he teaches and writes in the areas of health law, criminal procedure, behavioral economics, intellectual property, and the regulation of biotechnology. His current research focuses on cognitive neuroscience and forensic evidence.
About the University of San Diego School of Law
Recognized for the excellence of its faculty, curriculum and clinical programs, the University of San Diego (USD) School of Law enrolls approximately 900 Juris Doctor and graduate law students from throughout the United States and around the world. The law school is best known for its offerings in the areas of business and corporate law, constitutional law, intellectual property, international and comparative law, public interest law, and taxation.
USD School of Law is one of the 81 law schools elected to the Order of the Coif, a national honor society for law school graduates. The law school's faculty is a strong group of outstanding scholars and teachers with national and international reputations and currently ranks 23rd worldwide in all-time faculty downloads on the Social Sciences Research Network (SSRN). The school is accredited by the American Bar Association and is a member of the Association of American Law Schools. Founded in 1954, the law school is part of the University of San Diego, a private, nonprofit, independent, Roman Catholic university chartered in 1949.