USD Assistant Professor of Law Dov Fox's Expertise Featured in National Geographic Article "Phenomena: Only Human"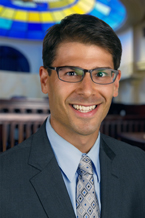 San Diego (October 1, 2013) – Comments from University of San Diego (USD) School of Law Assistant Professor of Law Dov Fox were featured in yesterday's National Geographic article on DNA theft and direct-to-consumer genetic testing.
In the article, Fox discussed the absence of legal remedies for the use of your saliva or hair sample to reveal family relations or markers for susceptibility to traits like baldness or obesity. Just one state (Texas) has so far proposed criminal or civil penalties for cases like these and the federal Genetic Information Nondiscrimination Act doesn't cover them because it applies only to employers and insurance companies.
Fox argues that until the government develops more robust genetic privacy protections, DNA theft lawsuits about paternity, infidelity, or disinheritance might be brought under ill-fitting statutes against blackmail or the public disclosure of private facts.
Read the full article on NationalGeographic.com.
About Professor Fox
Dov Fox is a professor of law at the University of San Diego School of Law, where he teaches and writes in the areas of health law, criminal procedure, behavioral economics, intellectual property, and the regulation of biotechnology. His current research focuses on cognitive neuroscience and forensic evidence.
About the University of San Diego School of Law
Recognized for the excellence of its faculty, curriculum and clinical programs, the University of San Diego (USD) School of Law enrolls approximately 900 Juris Doctor and graduate law students from throughout the United States and around the world. The law school is best known for its offerings in the areas of business and corporate law, constitutional law, intellectual property, international and comparative law, public interest law, and taxation.
USD School of Law is one of the 81 law schools elected to the Order of the Coif, a national honor society for law school graduates. The law school's faculty is a strong group of outstanding scholars and teachers with national and international reputations and currently ranks 23rd worldwide in all-time faculty downloads on the Social Sciences Research Network (SSRN). The school is accredited by the American Bar Association and is a member of the Association of American Law Schools. Founded in 1954, the law school is part of the University of San Diego, a private, nonprofit, independent, Roman Catholic university chartered in 1949.