USD Assistant Professor of Law Dov Fox Writes Huffington Post Article "Let Low-Risk Gay Men Give Blood"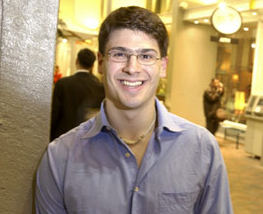 San Diego (August 1, 2013) – Today the Huffington Post published an op-ed article by University of San Diego (USD) School of Law Assistant Professor Dov Fox titled, "Let Low-Risk Gay Men Give Blood."
Fox criticizes federal requirements that blood collection agencies permanently turn away, among millions of would-be donors, any man who has had sex with another man since 1977, the year HIV was introduced to the United States. Fox maintains that advances in blood screening technology, which enable HIV detection within 12 weeks of exposure, have discredited the medical justification for this exclusion. Historically low blood supplies in this country, he maintains, makes the exclusion especially dangerous for public health.
The claim that the policy wrongfully discriminates is more complicated, he shows, in the absence of evidence that it reflects invidious motives or disadvantaging consequences. Fox argues that the blanket exclusion nevertheless reflects a disparaging stereotype that gay men are sexually promiscuous or use illegal drugs. This troubling social meaning—what Fox calls the expressive dimension of donor deferral—supports reliance on individual risk factors rather than sexual orientation.
Read the full article on HuffingtonPost.com.
Shortly after his article was published, a bipartisan group of 86 U.S. Senators and Representatives sent a letter urging the U.S. Department of Health and Human Services to end the exclusion of gay men from blood donation.
About the University of San Diego School of Law
Recognized for the excellence of its faculty, curriculum and clinical programs, the University of San Diego (USD) School of Law enrolls approximately 900 Juris Doctor and graduate law students from throughout the United States and around the world. The law school is best known for its offerings in the areas of business and corporate law, constitutional law, intellectual property, international and comparative law, public interest and taxation.
USD School of Law is one of the 81 law schools elected to the Order of the Coif, a national honor society for law school graduates. The law school's faculty is a strong group of outstanding scholars and teachers with national and international reputations and currently ranks 23rd worldwide in all-time faculty downloads on the Social Sciences Research Network (SSRN). The school is accredited by the American Bar Association and is a member of the Association of American Law Schools. Founded in 1954, the law school is part of the University of San Diego, a private, nonprofit, independent, Roman Catholic university chartered in 1949.