USD Assistant Professor of Law Dov Fox Pens Huffington Post Article "The Future of Genetic Privacy"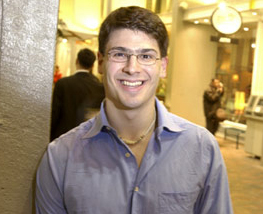 San Diego (August 13, 2013) - Today the HuffingtonPost.com published an op-ed article by University of San Diego (USD) School of Law Assistant Professor of Law Dov Fox titled "The Future of Genetic Privacy." Fox analyzes an emerging forensic technique called DNA phenotyping against the background of the U.S. Supreme Court's recent decision in Maryland v. King.
Fox explains that in King, the Court authorized the police to take, from any person who is arrested, the "junk" part of his DNA that can identify people without revealing their sensitive genetic information. But for unknown individuals whose hair, saliva, or skin cell are recovered from the scene of the crime, he emphasizes, police are free to examine any part of that DNA for what a majority of the Court called "more far-reaching and complex characteristics like genetic traits."
This, Fox argues, is where DNA phenotyping could have profound implications. This new forensic tool uses ancestry data and facial recognition software to try to infer the physical features of an unknown suspect—such as skin tone, nose shape, hair and eye color—all from cell tissue at a crime scene. Fox weighs the promise of this new technology to improve arrest accuracy and enhance police legitimacy against the risk that its adoption poses to genetic privacy and the role of race in the investigation of crime.
Read the full article on HuffingtonPost.com.
About the University of San Diego School of Law
Recognized for the excellence of its faculty, curriculum and clinical programs, the University of San Diego (USD) School of Law enrolls approximately 900 Juris Doctor and graduate law students from throughout the United States and around the world. The law school is best known for its offerings in the areas of business and corporate law, constitutional law, intellectual property, international and comparative law, public interest and taxation.
USD School of Law is one of the 81 law schools elected to the Order of the Coif, a national honor society for law school graduates. The law school's faculty is a strong group of outstanding scholars and teachers with national and international reputations and currently ranks 23rd worldwide in all-time faculty downloads on the Social Sciences Research Network (SSRN). The school is accredited by the American Bar Association and is a member of the Association of American Law Schools. Founded in 1954, the law school is part of the University of San Diego, a private, nonprofit, independent, Roman Catholic university chartered in 1949.